If you're traveling to China for business, there are some important travel requirements you should be aware of. We listed 5 important tips for you to make your upcoming business trip to China a little bit easier.
1 – Passport & Visa
Whether you're traveling from the US, Europe or another continent, you should check your passport first. It must be valid for at least six months after your arrival in China. Besides that, all business travelers must apply for a visa.
2 – Registration
If you arrived in China, visitors must register with the police within 24 hours of their arrival. You don't have to go to a police station; you can register at the hotel. Keep in mind to do this within the 24 hours, otherwise, it can result in fines or even worse, you have to leave the country.
3 – Etiquette
You'd better delve into the etiquette of China since its culture is totally different when comparing it to Western countries. A few tips:
Be prepared to meet up several times to achieve your objectives. They prefer to establish a strong relationship before closing a deal.
Don't be late for your appointment. Being late is a serious offense in the Chinese business culture.
Exchanging business cards is common practice, so make sure to bring plenty.
Handshakes are common but wait for your Chinese counterpart to initiate the gesture.
4 – Language
English is the number one spoken language in the world, but they don't speak the language in everywhere in China. Before traveling to the country, try to learn some frequently used Chinese words and sentences. We bet they will appreciate it!
5 – Packing
We all know China has an air quality problem, so bring a pollution mask with you.
We can't imagine doing business without a phone, tablet or notebook anymore.
Do not forget to pack your universal adapter that can handle China's 220 Volt/50Hz. Travel with a first-aid kit, it can be hard finding health products in China.
Of course, there are more tips. Most importantly: do your research before traveling to China for business. But we hope this short list helped you a little bit in the right direction. The Frenchway Travel has been in the corporate and travel business for 35 years now. If you plan on flying for business or conferences, please make sure to be in contact with one of our travel agents to have a comfortable and successful trip. Have you been to China for business yet? Please make sure to contact us at 212-243-3500 or email at info@35.238.50.103.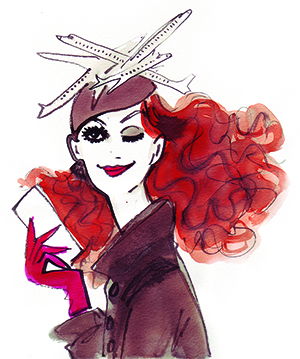 Contact us to find out how we can optimise your company's travel spending or simply plan your next trip.