The French capital is also undeniably the fashion capital of the world.  The much-awaited Paris Fashion Week is back, and we couldn't be more excited. The fashion extravaganza will play out this year from September 26 to October 4, showcasing some of the season's hottest new trends.
The event will witness major designers, both old and new, presenting womenswear for the spring/summer collection for their buyers as well as the media.  
Here are the deets for the most anticipated fashion event of the year!
What You Need To Know About Paris Fashion Week (PFW)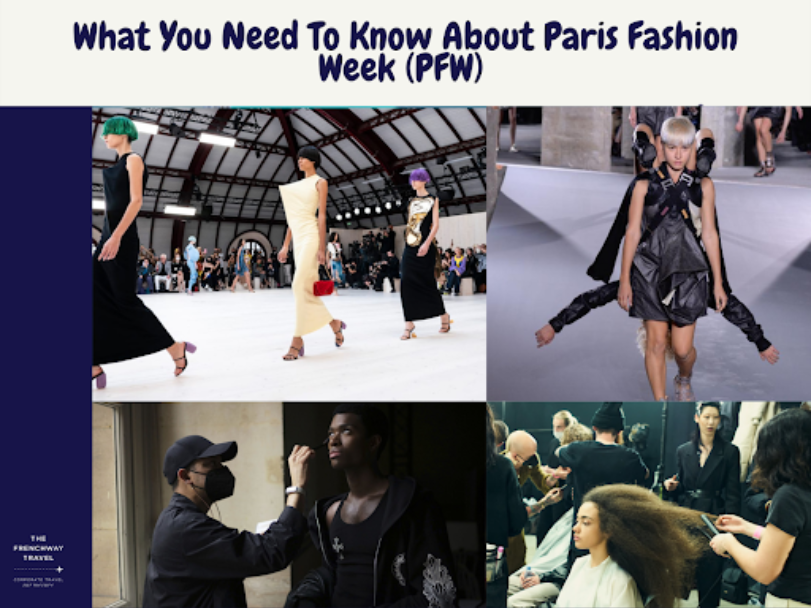 Hosted from 26th September to 4th October 2022, the week-long fashion spectacle will see renowned designers worldwide having their clothing collections up for display.
From apparel designers to models, editors to assistants, and photographers to fashion addicts, the PFW show is a singular platform that caters to the desires of many. 
With more than 105 brands and more than 60 runway shows, the bigwigs of the fashion world are bound to set the stage on fire. While some of these events will be hosted at iconic Parisian locations, others will transform the lesser-known spots into glamorous sights. 
Designers To Look Out For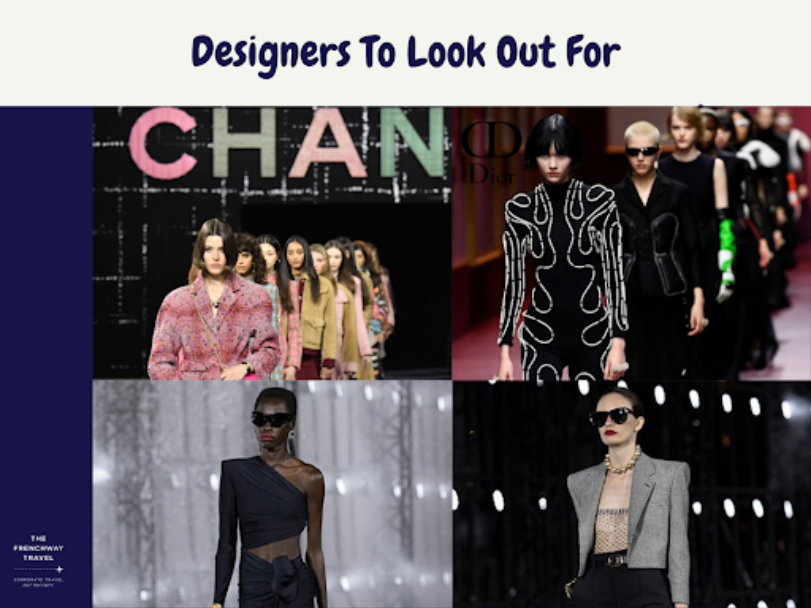 Many renowned brands, Saint Laurent, Dior, Balenciaga, Hermes, Loewe, Miu Miu, Louis Vuitton, and Chanel, will return to the runways. The PFW will also experience the return of many Asian brands, including Noir Kei Ninomiya, Issey Miyake, and Comme des Garçons. 
Victoria Beckham will also be debuting her namesake brand's 2023 spring collection that week. 
Other brands like A.W.A.K.E.Mode, Zimmermann, and Weinsanto are expected to debut this season. 
Digital Access
Fashion is no longer exclusive; digital shows have become the fashion world's mainstay. With the Big 4 continuing to follow a hybrid set-up of in-person and online shows, the PFW will also be taking some of their designers online, including Dior, Givenchy, and Saint Laurent. 
Tune in to the PFW's official website and celebrate the chic, luxurious fashion right at home.
Witness Peak Fashion With Frenchway Travel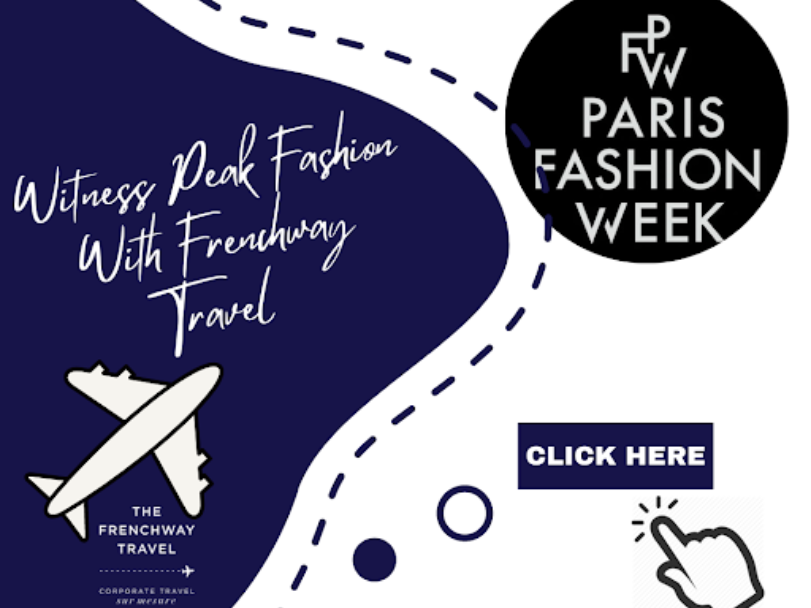 Attending a celebrated event like the Paris Fashion Week involves a lot of preparations, careful planning, and decision-making to make your trip convenient, comfortable, and fun.
Allow Frenchway Travel to take this task off your hands and provide you with the best comfort and security.
Serving businesses with all their travel needs, Frenchway Travel has been in the business for the last 38 years. We have offices in New York and Paris and offer exceptionally creative and strategic solutions for all things travel. 
Having established an extensive global network, we serve a wide range of industries like fashion, sports, music, and media, as well as movie and TV production. This ensures we can overcome various issues resulting from different time zones and find a solution for any problem. 
Whether traveling to Paris solo or taking your crew along, at Frenchway Travel, we aim to fulfill every single need and want of our customers. 
Take a look at some of the services we offer:
Last-minute Flight Booking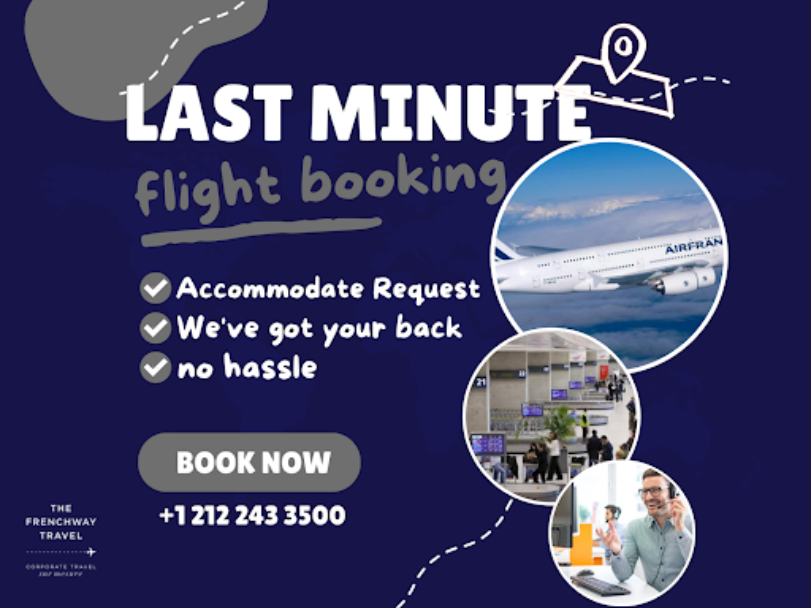 Working in the creative industry is not easy, and most of the time, you do not have the opportunity to book your tickets in advance. So, if you are planning on short notice or have unexpected staff coming along, we are here to accommodate all your last-minute challenges. 
We can find you a flight even during the busiest of times. We also ensure that you have a travel advisor to meet your needs.
Emergency Contact
No matter what the situation, you will never find yourself alone. If there is a delay in the flight, a cancellation, or any other issue, we've got your back. 
Frenchway Travel provides you with an emergency contact number that you can use to directly contact your advisor who will make all the necessary arrangements to get you to your destination with no hassle.
Best Business Class Rates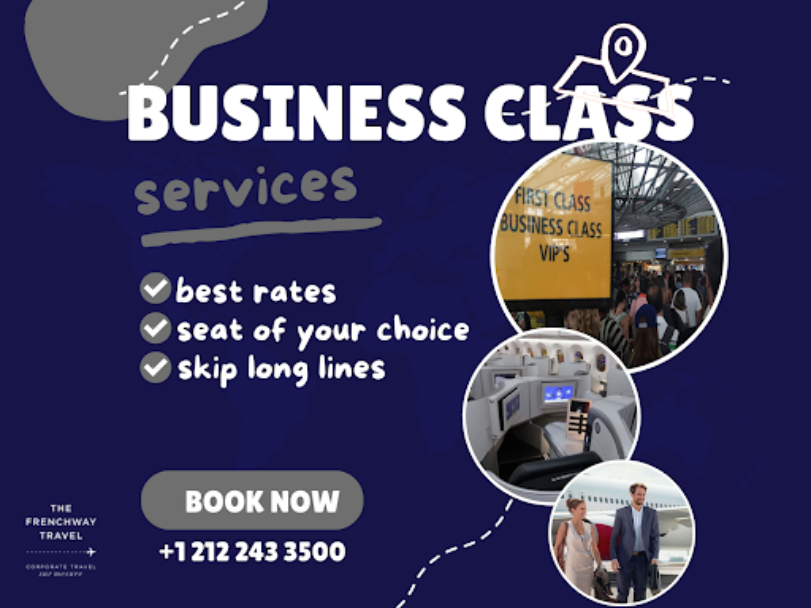 Whether you are looking for first-class or business-class travel, we are here to get you the tickets at the best rates. Get the seat of your choice, skip long lines, early boardings, additional baggage, airport lounge access, and more. 
With more flexibility in re-booking and cancellations, most times for free, your business-class journey starts when you book your ticket with us.
Customized Travel
want anything tailor-made? Just send in a request. We will customize an exceptional travel experience for you. 
VIP Services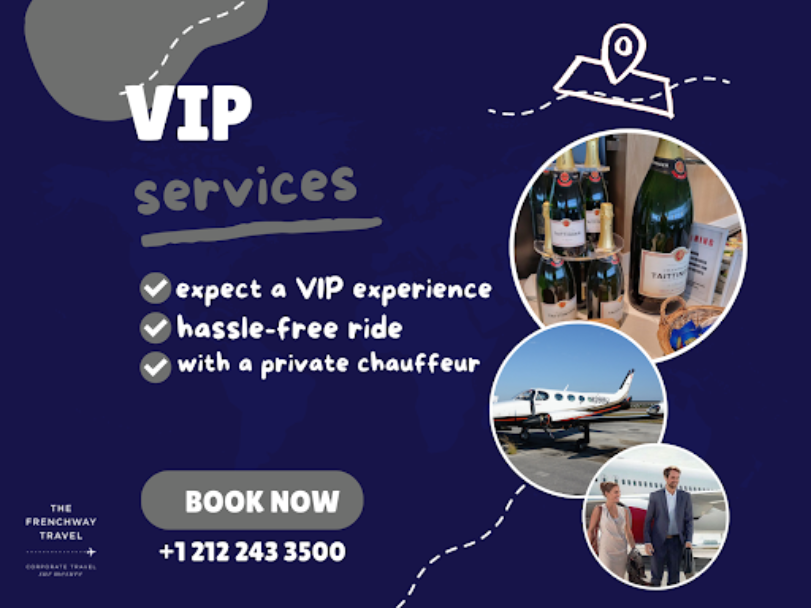 From private planes and helicopters to meet-and-greet, when you travel with Frenchway Travel, expect a VIP experience at every step. We ensure you do not have to worry about maneuvering your way in a foreign land. 
Our airport pick-up and drop-off services will ensure you have a hassle-free ride to and from the airport. You even have the option to choose a private chauffeur, so you can avoid public transportation and have a little more privacy.
Travel Expense Management
Traveling for a fashion event corresponds with complicated payment procedures. With multiple payers, different sponsors and vendors, and different time zones to deal with, your accounting can easily get out of hand. 
Allow us to take care of all the account management for you so you can have a carefree, convenient experience.
24/7 Travel Advisor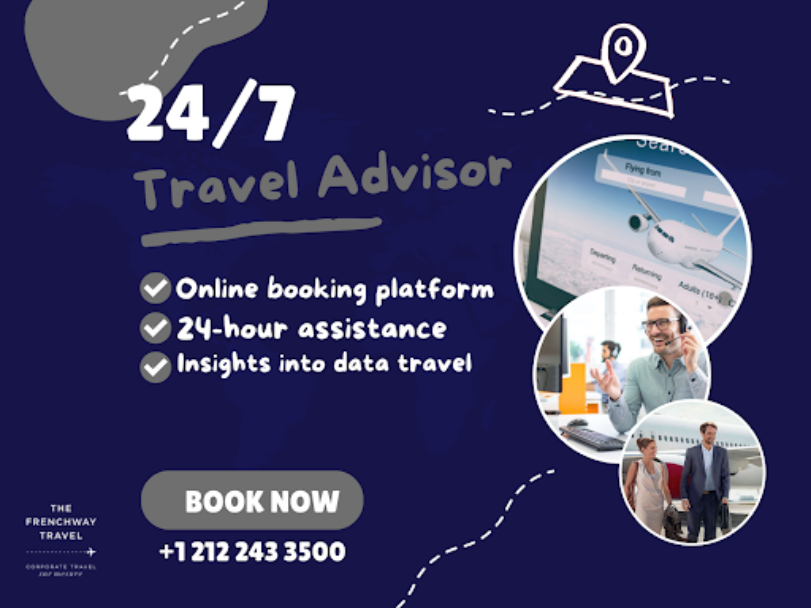 We are here for you 24 hours a day, 7 days a week, 365 days a year. With access to our private number, our clients can contact us in an emergency. Whether you have overbooked flights or flight cancellations, our employees are equipped to fix any problem for you.
Some of the services we offer are:
Online booking platform

24-hour assistance

Insights into data travel

A personal agent

Airline reward management

Travel policy management

Travel savings
Work with Frenchway Travel for a Seamless Travel Experience 
Whether a fashion house, a model, or a designer, being a part of Paris Fashion Week is of great importance and prestige, you certainly don't need additional responsibilities weighing you down. 
Plan your trip with Frenchway Travel, and you can kiss your worries goodbye. We will plan your trip to the minutest details and cater to all your needs to ensure the most comfortable and fun experience for you. 
References 
https://parisfashionweek.fhcm.paris/en/womenswear-spring-summer-2023/ 
https://fashinza.com/textile/fashion-industry/paris-fashion-week-spring-summer-2023-calendar-who-where-when/ 
https://harpersbazaar.com.au/paris-fashion-week-spring-summer-2022/ 
https://frenchwaytravel.com/our-services/best-business-class-rates/