Air France has a distinctive take on luxury products. This becomes even more apparent with their first-class cabins that offer more personalized services. 
In May 2022, the carrier made a splashy debut with brand-new business-class seat designs on select 777-300ER jets. The upgrade features sliding doors and direct aisle access, raising the bar for business class passengers.
The French airline is set to further expand its first-class experiences sometime in 2023 or 2024 by striking a balance between convenience and luxury. It is currently in the design phase and is said to be working on the "longest cabin" on the market.
Business Class Vs. First Class: Airport Experience
Air France offers a comfortable premium experience with its business class seats on almost all flights. On domestic flights, it has seating similar to economy class. However, you'll really feel the First Class upgrade once you book their La Première accommodations and service. If you're flying from Charles de Gaulle (CDG) airport in Paris, the experience starts when you're picked up in an upscale vehicle that will drop you off for your flight. Once you board, you get a private cabin that offers exclusivity and the highest level of French excellence. It boasts comfortable seats, hotel-style bedding like marshmallow pillows and fluffy duvets, and a culinary experience curated by Michelin-star chefs.
Both Air France products offer increased baggage allowances. Moreover, passengers with higher FlyingBlue statuses can check in an extra bag. In addition to all these perks, your luggage is tagged as a priority so that you can expect a faster baggage claim process. 
Perks of Traveling in Business Class
Air France business class passengers have access to a lounge with comfortable seating, a selection of hot and cold dishes, free WiFi, and complimentary alcoholic beverages throughout their journey. They also enjoy "night service" during late evening departures and can take advantage of spacious showers in select lounges. 
Business class passengers can also access exclusive SkyPriority lanes at check-in and security, get priority boarding (they can also board any time during the boarding window), and expedite some custom inspection lines. 
Air France business class members also receive an amenity kit made from 93% recycled material. It includes socks, Clarins cosmetic products, an eye mask, and a toothbrush. They also get priority deplaning upon arrival. 
Perks of Traveling in First Class
Passengers traveling first class can enjoy the many perks of La Première lounges in Paris and New York. They can sip on a variety of wines and enjoy top-tier table service with gourmet snacks. They can also take advantage of a gourmet menu designed by Alain Ducasse, plush seating, and a 30-minute free spa session by Sisley — a French luxury brand.
La Première passengers benefit from dedicated check-in spaces, are fast-tracked through security and immigration requirements, and get free transfer service in luxury cars across the tarmac (when there are longer distances between the lounge and the aircraft).
La Première passengers can board the aircraft at leisure through a dedicated jet bridge. They also receive luxurious amenity kits containing a collection of Sisley products, a large eye mask, and a comb. Passengers are also offered high-quality pajamas during boarding.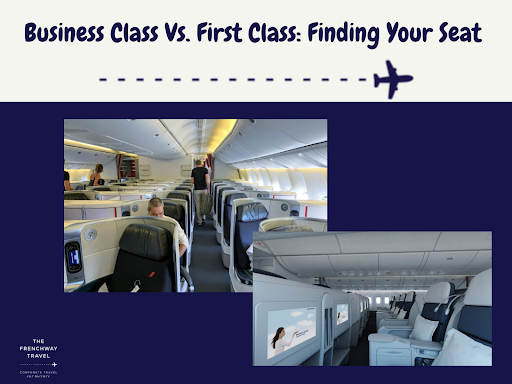 Business Class Vs. First Class: Finding Your Seat 
The seating arrangement of Air France, the flag carrier of France, varies across business and La Première class. 
In Business class, the suite has 14 new lie-flat seats in an intimate 1-2-1 configuration. The best thing is the design of the middle seats has been updated to offer "a greater sense of privacy for passengers traveling together."
The crisp white cabins feature reverse herringbone seats made with soft and natural materials like wool, brushed aluminum, and full-grain leather. When reclined, they transform into full beds. They also have sliding doors that keep passengers comfortably cocooned from their neighbors. In addition, the cabins are decorated with parquet carpet and feature backlit winged horse and aisle paneling.
In La Première class, every cabin row has only four large seats and two toilets.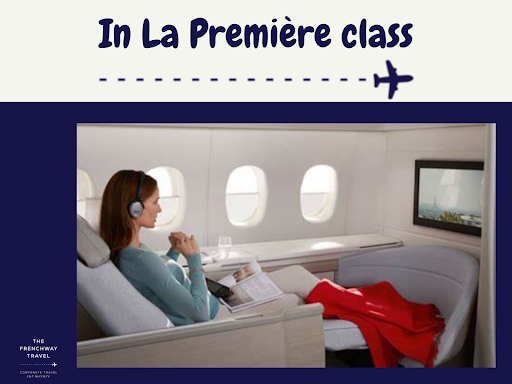 Passengers can choose from electronically-operated partitions for some privacy or be more fully hidden from view with full-length, ceiling-to-floor curtains that can be partially or fully enclosed. The seats come in soothing colors and feature ottomans with seatbelts on the opposite end. Ottomans come with cozy cashmere and are part of the fully flat beds, which are outfitted hotel-style. 
Dining in Air France's Boeing 777
Meals for La Première and business class passengers are designed by Michelin-star chefs. 
The dining experience kicks off with champagne. Passengers are then served premium starters, followed by main courses. In La Première, dishes are presented on Bernardaud Limoges porcelain — the epitome of traditional craftsmanship — and followed by a made-to-order salad. 
Passengers are served a selection of cheeses, a baguette (as is customary in France), and small desserts to wrap up the meal. For La Première passengers, this includes an additional course of fresh fruits and sorbets/ice cream.
During long flights, passengers can get made-to-order, freshly baked delicacies. They can also get snacks and beverages from a self-service bar in the center galley. Passengers who want to sleep through breakfast can request a cabin crew member to bring them a light meal up to 30 minutes from touchdown. 
The cost of alcohol is covered by the La Première ticket and is complimentary in business class. The selection is focused on French wines and champagnes curated by the world-class sommelier Paolo Bosso. 
Entertainment Air France's Boeing 777
Business class seats feature a 17.3-inch entertainment touchscreen with anti-glare technology and a 4K HD display. You'll also find multiple charging options and a noise-reducing headset next to your seat.
The La Première, on the other hand, features a 24-inch HD touchscreen entertainment system. Passengers can use it with pre-wired noise-canceling headphones and touchscreen tablet controls for navigation. There's also the added bonus of free WiFi for easy browsing.
The cabins have dimmable lights for a more relaxing mood. 
Seat Upgrades via the Flying Blue Rewards Program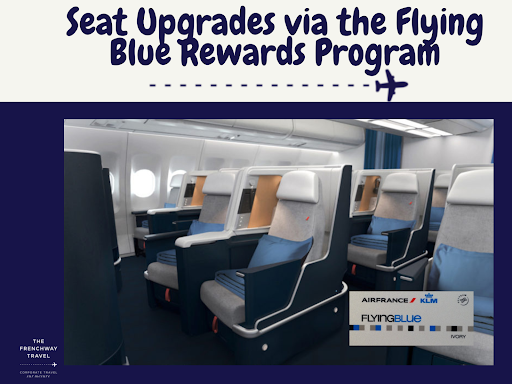 Business class seats cost a pretty penny, especially if you're booking seats at the front which are known for their additional comfort. Factor in mileage redemption restrictions on La Première, and you have a big bill on hand. The good news is Air France offers upgrades for operational reasons. 
Air France business class passengers Gold or Platinum members of the FlyingBlue program — the airline's frequent flier program — can get last-minute upgrades to the coveted La Première through mileage redemption. However, keep in mind that this must be done at least 24 hours before departure, or the passenger won't be able to avail of all the benefits of first class. 
If you want to enjoy a premier flying experience with major airlines like Air France, consider working with a travel agency specializing in selective and elite experiences.
Frenchway Travel: Tailor-made Travel for VIP Passengers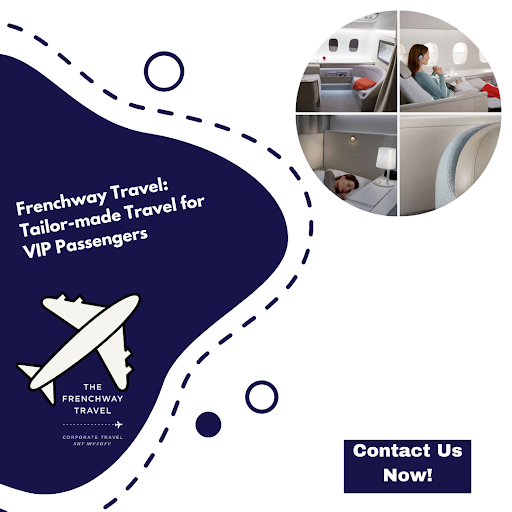 Frenchway is a luxury travel agency that provides tailor-made solutions for the most demanding clients. Our experience with Air France has allowed us to take care of our client's needs in every conceivable situation, from maneuvering complex itineraries to last-minute emergencies.  
Contact us for access to unparalleled travel experiences that meet your every need.