Flying from Los Angeles International Airport (LAX) to Paris Charles de Gaulle Airport (CDG) onboard Air France is the definition of comfort and luxury. The French carrier enjoys an above-average rating due to its excellent cabin crew, delicious in-flight meals, and comfortable cabins.
About LAX
LAX is one of the most popular airports in the world and among the busiest. Aside from travelers, it is also frequented by paparazzi since Los Angeles is the center of the world's entertainment industry. Photographers camp out at LAX to take photographs of celebrities who are departing or arriving at the airport. 
Opened in 1928, LAX is the primary international airport in Los Angeles and the surrounding areas. It is the fourth busiest airport in the world based on the number of passengers and the second-busiest airport in the United States. In 2019, close to 90 million passengers traveled to and from LAX. 
LAX serves 69 air carriers, including Air France. Air France flies out of LAX from Terminal 2 and Terminal B. 
Air France Lounge at LAX
France's flag carrier used to have an Air France Lounge located in Terminal 2. Air France took over the old Northwest Airlines lounge after it merged with Delta. It has since been closed as Air France became a founding member of the SkyTeam along with Delta Air Lines, KLM, Korean Air, and Aeromexico. Fourteen more airlines from five continents have joined the alliance.
Despite the absence of an exclusive Air France Lounge, travelers can stay within the terminal and enjoy many dining options across the terminal's four floors. Some of its most popular eateries include: 
One World Business Class Lounge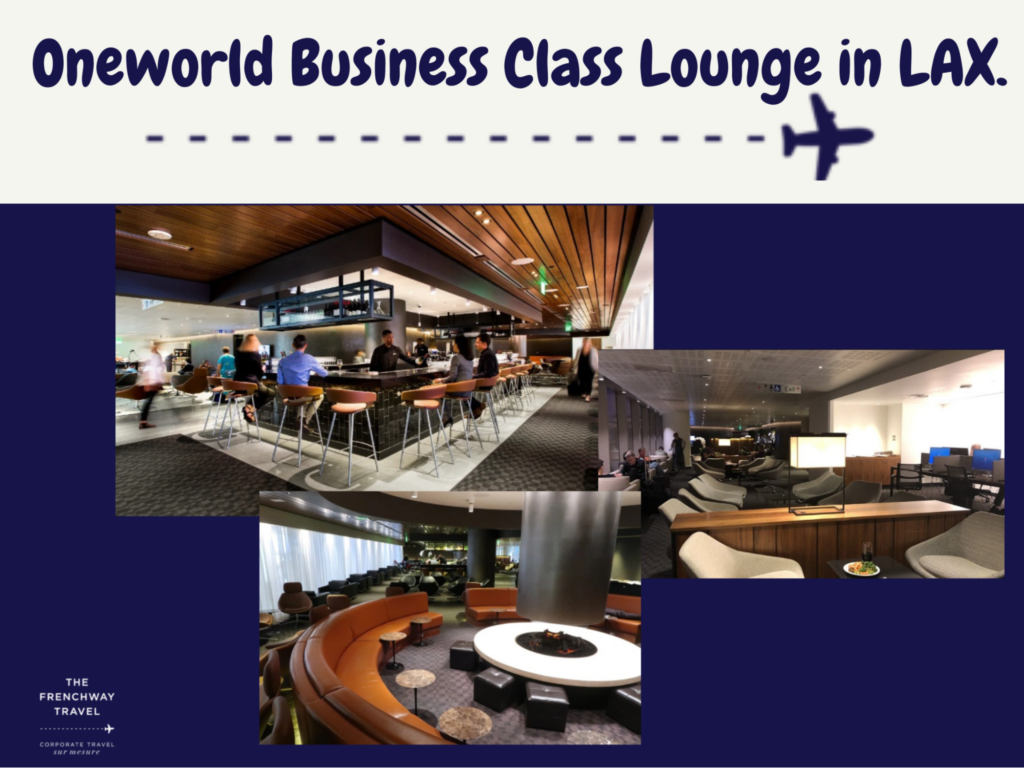 More recently, Air France has provided its passengers with a more premium lounge experience by allowing them to use the Oneworld Business Class Lounge in LAX. Though Air France isn't yet a member of the Oneworld Alliance, the carrier has made special arrangements to grant its customers entry. 
The Oneworld lounge in LAX is huge, sporting rich, dark interiors and about 42,000 square feet. It can accommodate up to 600 passengers. 
In addition to executive-type chairs, there are also reclining chairs where you can enjoy the view offered by large windows. There is a self-serve buffet with a wide selection of beverages and dishes. Passengers who prefer a good drink can choose from a healthy selection of wine and beer.
The bathrooms are spacious and comfortable, with nine shower suites featuring a toilet, sink, and walk-in shower.
Overall, the Oneworld Business Class Lounge offers a more decadent, cozier, and comfortable atmosphere. It features several amenities that anticipate the needs of travelers.
The lounge is inside the Tom Bradley International Terminal (Terminal B or TBIT).
LAX Terminal B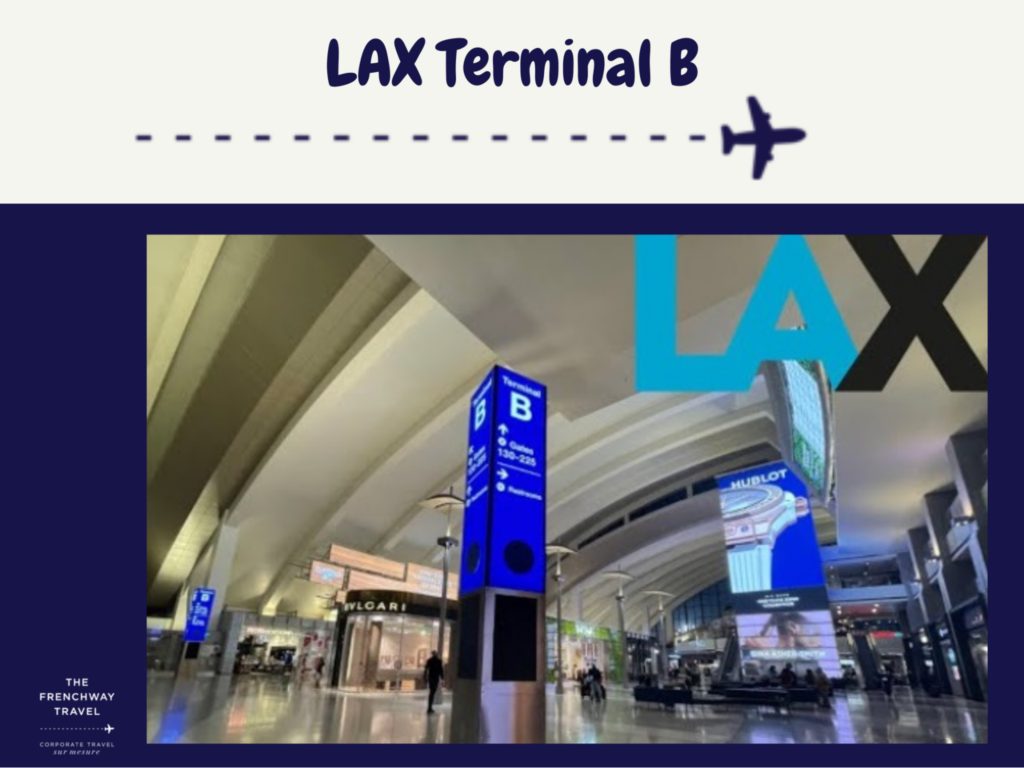 Air France uses the Tom Bradley International Terminal in the western part of the airport, near terminals 2 and 3.
LAX spent over $1.9 billion in 2013 to modernize Terminal B and provide travelers with a world-class experience. The 40-gate terminal is among the most modern airports in the world. 
It features a lot of dining and shopping establishments to make your waiting time worthwhile.
Air France Flights from LA to Paris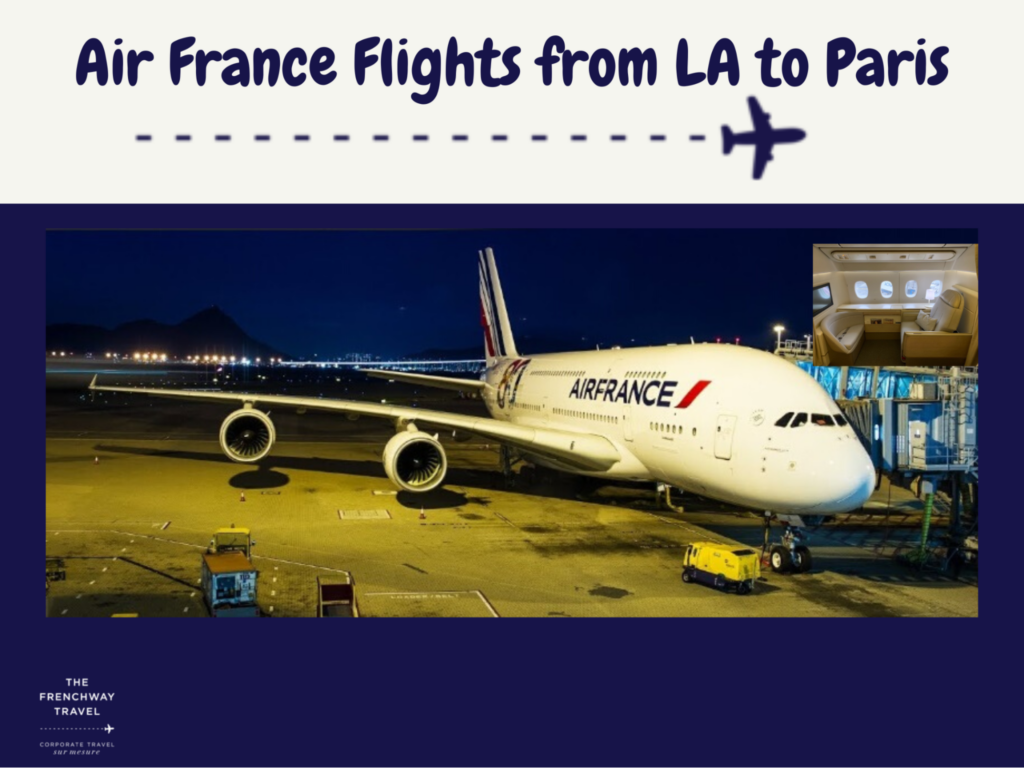 Air France flies two to three times a day from LAX to CDG, with flight times clocking in at 10 hours and 50 minutes for direct flights over the 5,687-mile distance. 
Here are Air France's local departure and arrival times for direct flights from LA to Paris:
Departing at 3:25 PM and arriving at 11:15 AM the next day

Departing at 6:25 PM and arriving at 2:10 PM the next day

Departing at 9:00 PM and arriving at 4:50 PM the next day
Traveling from LAX to CDG With Air France
Air France has two direct flights from LAX to CDG every day. The following aircraft are used:
Airbus A380
Air France is slowly retiring its aging fleet of A380-800s, which Airbus introduced in 2007. With its fleet of Airbus A380s, the company maintains its position as the largest passenger airline with full-length double-deck planes. 
Air France's A380s were commissioned in 2010. The first Air France A380 was retired in 2019; most are currently in storage. Most airlines, however, still use the A380, which may mean that Air France could repaint and restore these planes, which offer angled Business Class seats. 
Boeing 777-300ER
This is the most common aircraft Air France operates between LAX and CDG. It features lie-flat modern business-class seats that offer extra comfort, especially during long flights. 
The aircraft is characterized by its mega twin engines and elongated fuselage. The seats are 21.5 inches wide with a 61-inch pitch. The bed length is 77 inches. There are 58 business class seats on the Air France 777-300ER with the reverse herringbone seat. 
Air France has four seat classes: economy, premier economy, business class, and first class. Business class travelers get a pair of slippers, a blanket, pillows, and a coat hanger. Plus, they can choose four colors for their amenity kits: red, light blue, dark blue, and aubergine. 
Travel Guidelines from LAX to CDG
There are no more COVID-related formalities required when entering France. You no longer need proof of travel, health pass, or affidavit of non-contamination. 
LAX follows the protocol set by the Centers for Disease Control and Prevention. So, when traveling from LAX, you must show proof of vaccination. Children and diplomats are exempted from these requirements. 
Flying and Arriving at CDG
The LAX-to-CDG flight is among the most luxurious. Gotham Magazine named LAX the third-best luxury airport in the U.S. The same magazine names CDG as the best luxury airport in Europe for designer shopping. Overall, CDG ranks third in the world's list of best luxury airports. 
For those who want to travel between LAX and CDG, Frenchway Travel is the best partner to have. With 38 years of experience, Frenchway Travel has been helping travelers enjoy convenient and comfortable flights in and out of France.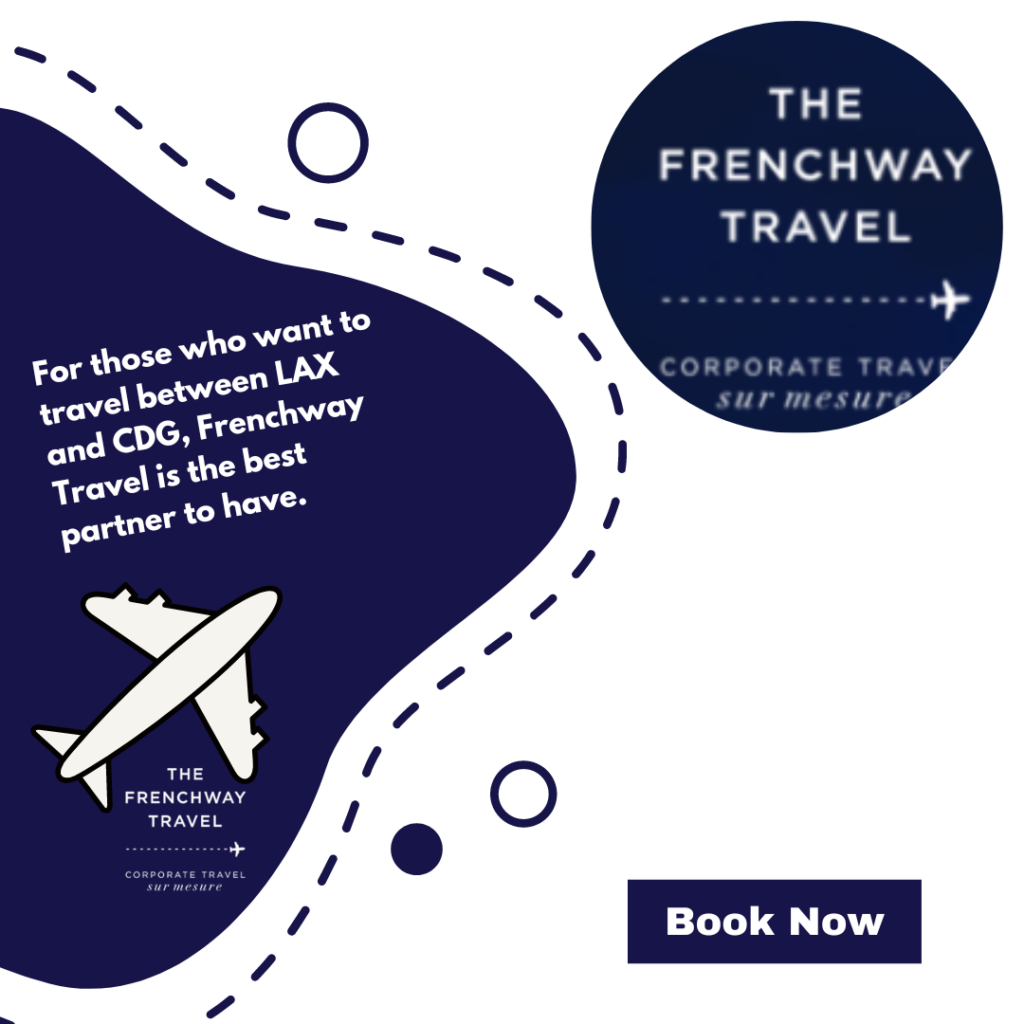 References:
Los Angeles World Airports. (n.d.). Just the Facts. Retrieved December 16, 2022 from https://www.lawa.org/history/lax-history/just-the-facts 
World Airport Guides. (n.d.). Los Angeles LAX International Airport Guide. Retrieved December 16, 2022 from http://los-angeles-lax.worldairportguides.com/terminals.php
Los Angeles International Airport. (n.d.). LAX Terminal 2 (Gates 20–28) Departures Level Directory. Retrieved December 16, 2022 from https://www.flylax.com/-/media/flylax/terminal-map-files/t2.ashx
Los Angeles World Airports. 2021. West Gates at Tom Bradley International Terminal (2021). Retrieved December 19, 2022 from https://www.lawa.org/transforminglax/projects/west-gates-at-tbit
Horan, Rocky. (2018, March 26). Review: Air France Lounge at LAX. Travel Codex. https://www.travelcodex.com/air-france-lounge-at-lax/
Lounge Review. (n.d.). Korean Air KAL Business Class Lounge. Retrieved December 19, 2022 from https://loungereview.com/lounges/korean-air-kal-business-class-lounge-lax/
Bein, Kat. (2022, August 19). Revealed: The Most Luxurious Airports in the U.S., Europe and the World. Gotham Magazine. https://gothammag.com/best-luxury-international-airports