Frenchway is your one-stop shop for all your production travel needs! Our 35 years of experience is why we are number one in the business. We will help you with everything from flights, freights, hotel bookings, and transportation while ensuring you get the best rates.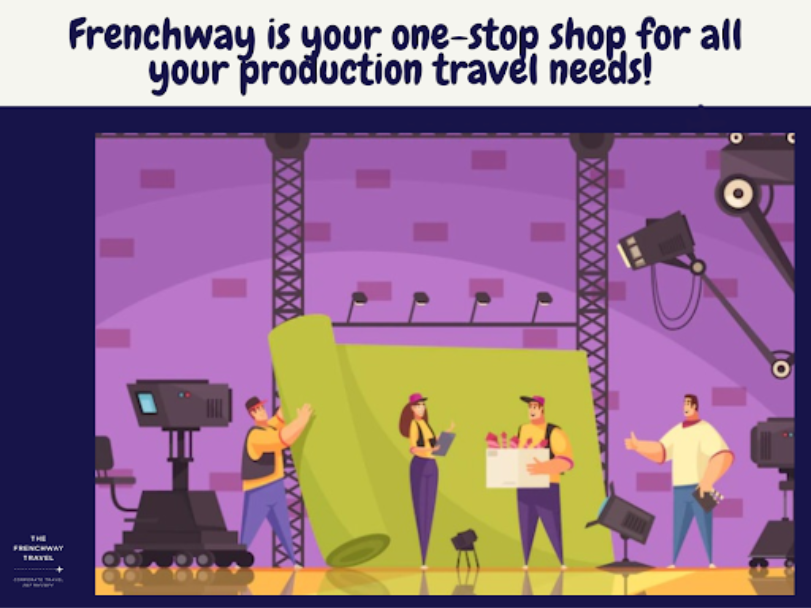 Traveling as a production company may sound overwhelming, but it does not have to be. At Frenchway, we know how to guarantee smooth and efficient travel regardless of the travel date or group size. Our reliable professionals work directly with agencies and their production teams to ensure that the entire crew, including directors, actors, producers, photographers, stylists, project managers, technical teams, and equipment, get to where they need to go regardless of location or flight changes. We have offices in Paris and New York, allowing us to provide service to almost all time zones and provide you with a proactive and dedicated agent for your company's needs.
Production Group Travel – your cast, crew, and equipment are in reliable hands. We will personally manage your travel, transportation, and accommodation throughout the length of your project. Our decades of know-how in the business and exclusive partnerships allow us to offer competitive rates, streamlined services, and smooth travel.
We can coordinate travel, transportation, and accommodation for groups of all sizes! Our packages are catered to all types of talent, including but not limited to CEOs, models, photographers, producers, directors, stylists, makeup artists, prop coordinators, drone operators, VFX supervisors, hair stylists, and more!
Size: 10-30 people
This package is perfect for smaller projects that need help coordinating different levels of management or talent at other locations or dates. Like all our packages, we will ensure your account is handled by a highly trained agent who will help you book, reserve, and manage your trip from beginning to end. 
Size: 30-100 people
A bigger group needs more planning! At FrenchWay, we can help you schedule all your team flights regardless of dates, times, and locations. We will manage accommodation ranging from grand hotels for VIP guests to locating nearby lodging for crew members. We can help scout production locations and ensure all equipment is where it needs to be. Your designated account manager will be able to update you on arrival and departure dates and any changes that may arise. 
Size: 100-1000+ people
A holistic approach to group travel is needed when coordinating a group larger than 30 people. Frenchway has you covered. Our seasoned professionals will assist you in planning your trip until your project is completed successfully. We understand the pressure of coordinating various hotels, transportation, and flights on different budgets. This is why industry leaders like us can facilitate the process, even when unexpected deviations occur. 
Not only will we be able to uniquely customize each package to your needs, but we will also guarantee the best pricing when booking hotels, whether they be luxury suites for VIP clients or a one-night accommodation for other team members. All while being in the exact location and considering that dates may change or not be the same for everyone in the group. 
At Frenchway, we are proud to provide a five-star competitive service. Your account will be managed by a highly trained industry expert that knows how to be quick on our feet when last-minute changes arise. Frenchway works with you throughout your  entire journey, beginning to end.
Freight & Logistics – There is no such thing as light travel when filming on location. Allow our team of experts to save you the headache, and let us arrange your freight and logistics to ensure all your equipment is where it needs to be, when it needs to be there and at the right price. 
We ensure constant communication throughout your booking process, while on location, and when finalizing the project. 

Our highly trained agents will work hand in hand with you and your team to ensure that everything runs smoothly and all changes are taken care of at a moment's notice. 
VIP Services –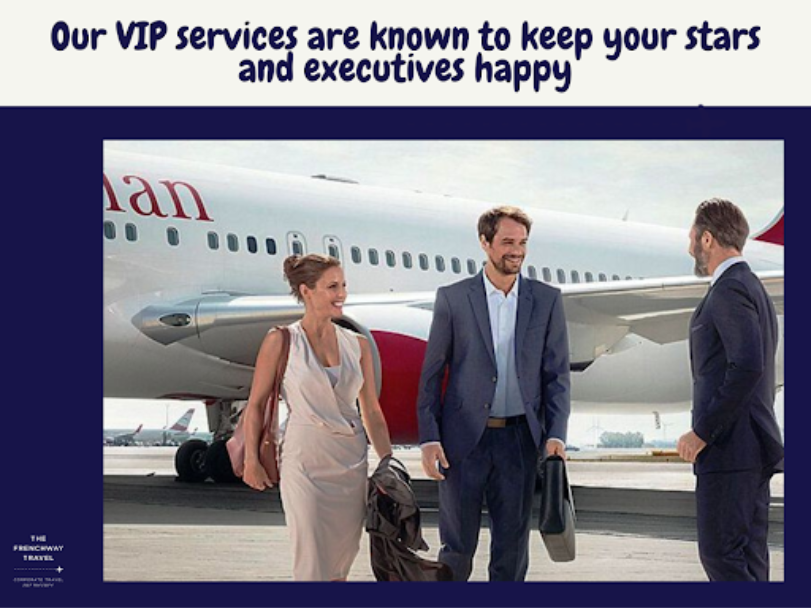 Our VIP services are known to keep your stars and executives happy. We will be able to provide priority travel with perks, accommodation at the very best luxury hotels, and discrete transportation.
We will book private and discreet transportation services when needed

We will find the best rates for luxury hotels and ensure they are situated in an ideal location 
Support & Emergencies – In a fast-paced industry, you need support that reacts even faster. Our agents are always available, but we also ensure timely support by providing you with an emergency contact number.
There are going to be a lot of changes and surprises that will inevitably happen. Most shoots take longer than expected, so we always leave room for flexibility.