It's official: Paris Haute Couture is finally back to its regular schedule since COVID-19 surprised the world three years ago. According to the Fédération de la Haute Couture et de la Mode 29 houses are ready to show their fall/winter collections in person. The official calendar announced that Paris Haute Couture would take place between July 4th and July 7th. It even offers a quick look at ready-to-wear collections from some of the most reputable designers on July 3rd.
Whether you are a model, an advertising company, a production company, or a photographer, travel can be pretty stressful. Let us coordinate all your travel logistics. Frenchway's experience, partnerships, and track record make them the ideal candidate to help you travel stress-free!
The Schedule Highlights of Paris Haute Couture Week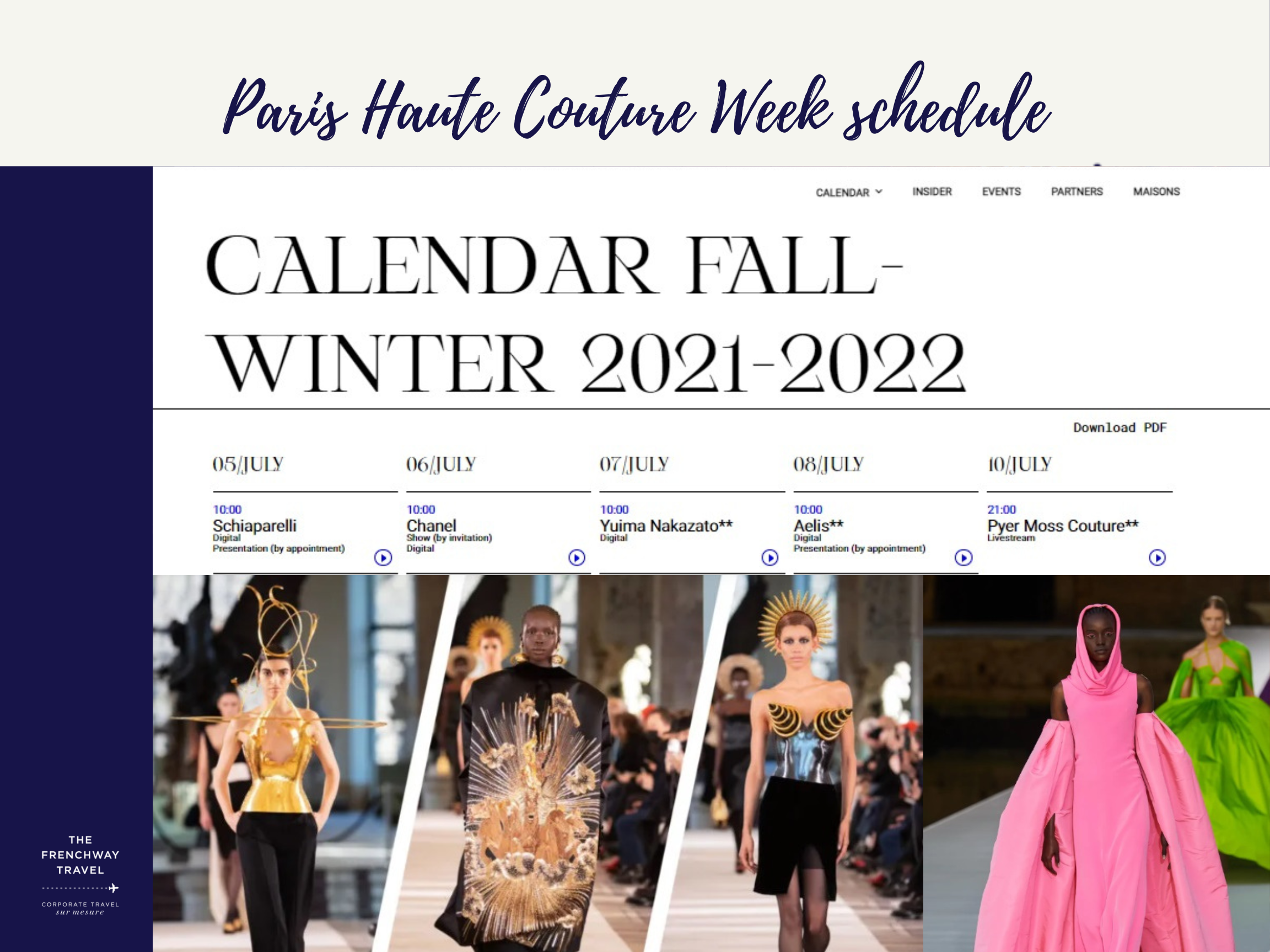 To get a good idea of what your itinerary will look like, let's cover the highlights of what will happen throughout the four days of the Paris Haute Couture.
As a prequel to the couture calendar, there will be a presentation of ready-to-wear collections on July 3rd from 4:30–8 pm created by Paco Rabanne, Patou, and Alaïa.
The first day of the season will be the fullest, with eight events on July 4th. The day begins with non-other than Schiaparelli at 10 am and finishes with the anticipated return of Giambattista Valli to the runway at 7:30 pm.
The second day of your calendar will be a little more predictable as Giorgio Armani Privé comes back to its regular 7 pm spot.
July 6th will be filled with exciting shows like Olivier Rousteing's one-off collection for Jean Paul Gaultier as a gust couturier at 6 pm. Earlier that day, Demna Gvasalia will showcase his second Balenciaga couture collection at noon. The day closes with Maison Margiela's runway at 8:00 pm.
The final day of Paris Haute Couture features Spanish designer Juana Martin's introduction at 4 pm on July 7th. Her brand launched back in 1999, featuring designs inspired by Cordoba, her Spanish hometown, flamenco culture, and Andalusian gypsy heritage. Other guests will be joining her, like RVDK Ronald Van Der Kemp, Yuima Nakazato, and of course, Zuhair Murad. Aelis, Christophe Josse, Georges Hobeika, Imane Ayissi, and Rahul Mishra.
Couture week will close at 7 pm with Adeline André as the last show.
Paris Couture Week Travel as A Production Company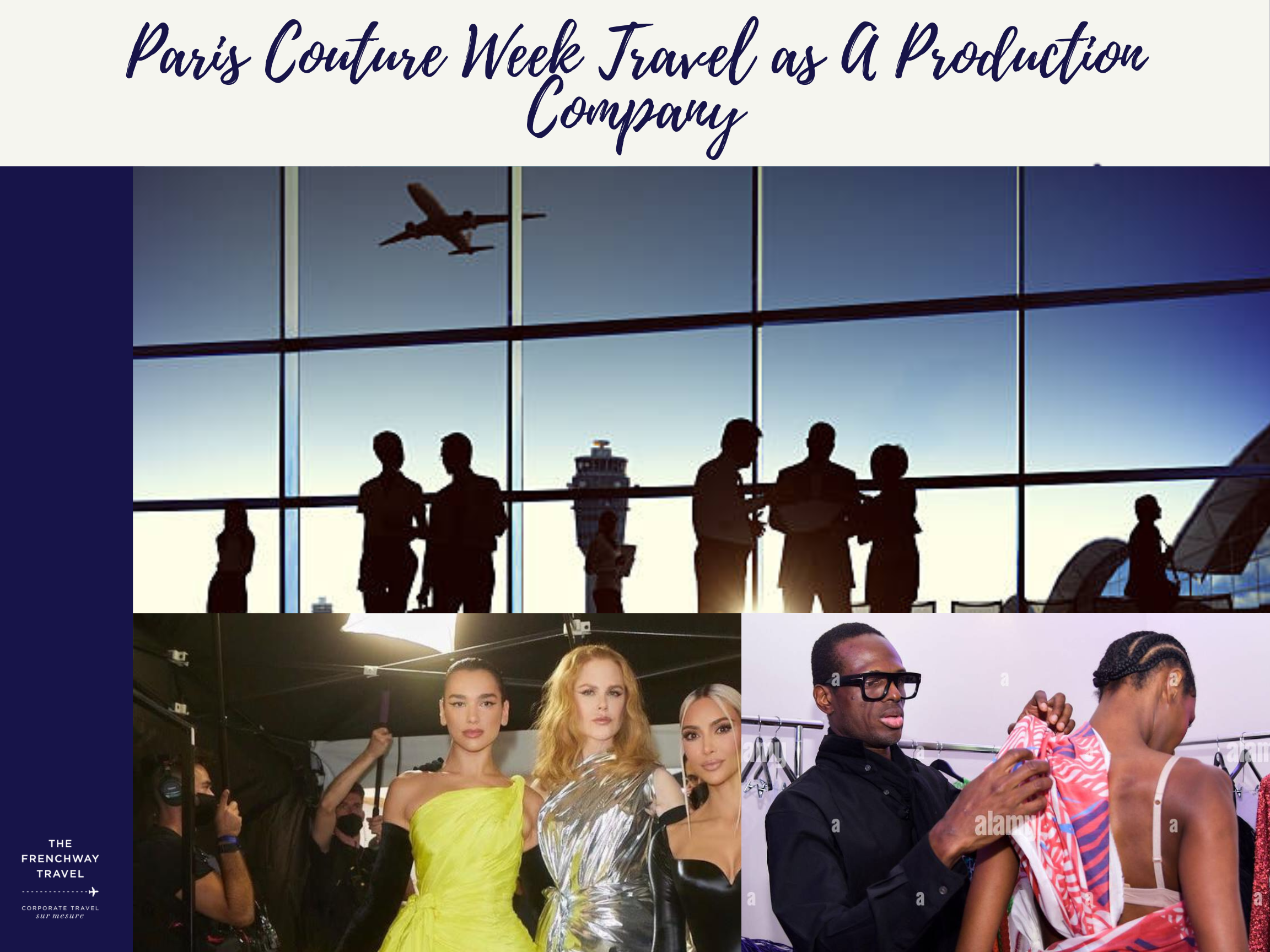 Frenchway makes it easy to plan your production travel, even during the busiest times of the year like summer, fashion week, or Paris haute couture. As a production company, you have a unique set of requirements we are prepared to meet. Frenchway's customized service understands the attention needed to plan each trip to ensure your and your team's needs are met.
These are the key points we take under consideration when ensuring smooth, stress-free travel.
When managing travels for a group, it is crucial to consider the finances behind it. Having a budget is not a problem for Frenchway. They will be able to provide you with seamless service.
Whether you are a model on the next Balenciaga show or a highly sought-after advertising agency, rest assured that you will be in reliable hands. Once at the airport, we make sure to use our resources and partnerships to arrange a seamless airport meet, greet, and assist service. This service is also available once you have landed in Paris. The escort service will help you with check-in, security, customs assistance, and luggage. This service is especially useful when you have a tight time frame.
Transporting heavy, bulky, and of course, delicate baggage, equipment, and supplies require the attention of seasoned experts. As the premier travel management company from NYC to Paris for over thirty years, we assure you our travel experts are here to help. Our team is trained with a unique set of skills that will ensure a successful, cautious, and timely transfer of all your equipment and supplies. We will leave nothing to chance.
Traveling to Paris during Paris Haute Couture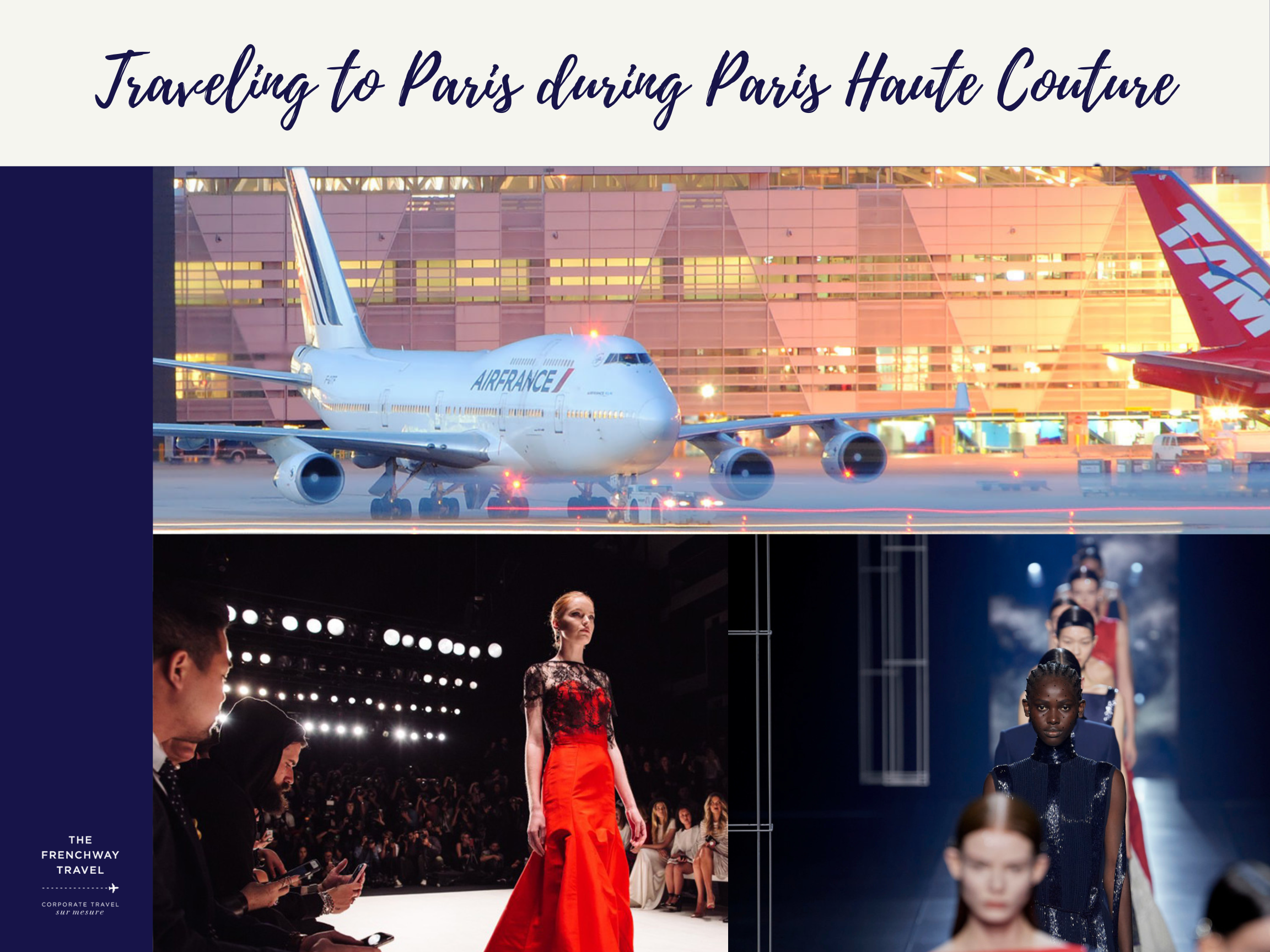 There are several things to consider when traveling from NYC to Paris during Paris Haute Couture week. For starters, between summer vacation and high-end events, flight schedules tend to be hectic, with changes happening almost daily. That is why FrenchWay's savvy customer service comes in handy.
Their relationship with France's premier airline – AirFrance – allows them to book with the best rates, even at their fullest. An AirFrance Business Class cabin can make such a big difference when traveling long distances. Their on-demand services make them the optimal choice for travel. Frenchway will ensure that all your needs are met well past landing at Charles De Gaulle. Their end goal is for your trip to be smooth at every stop until you reach your final destination.
Where to stay in Paris during Paris Haute Couture?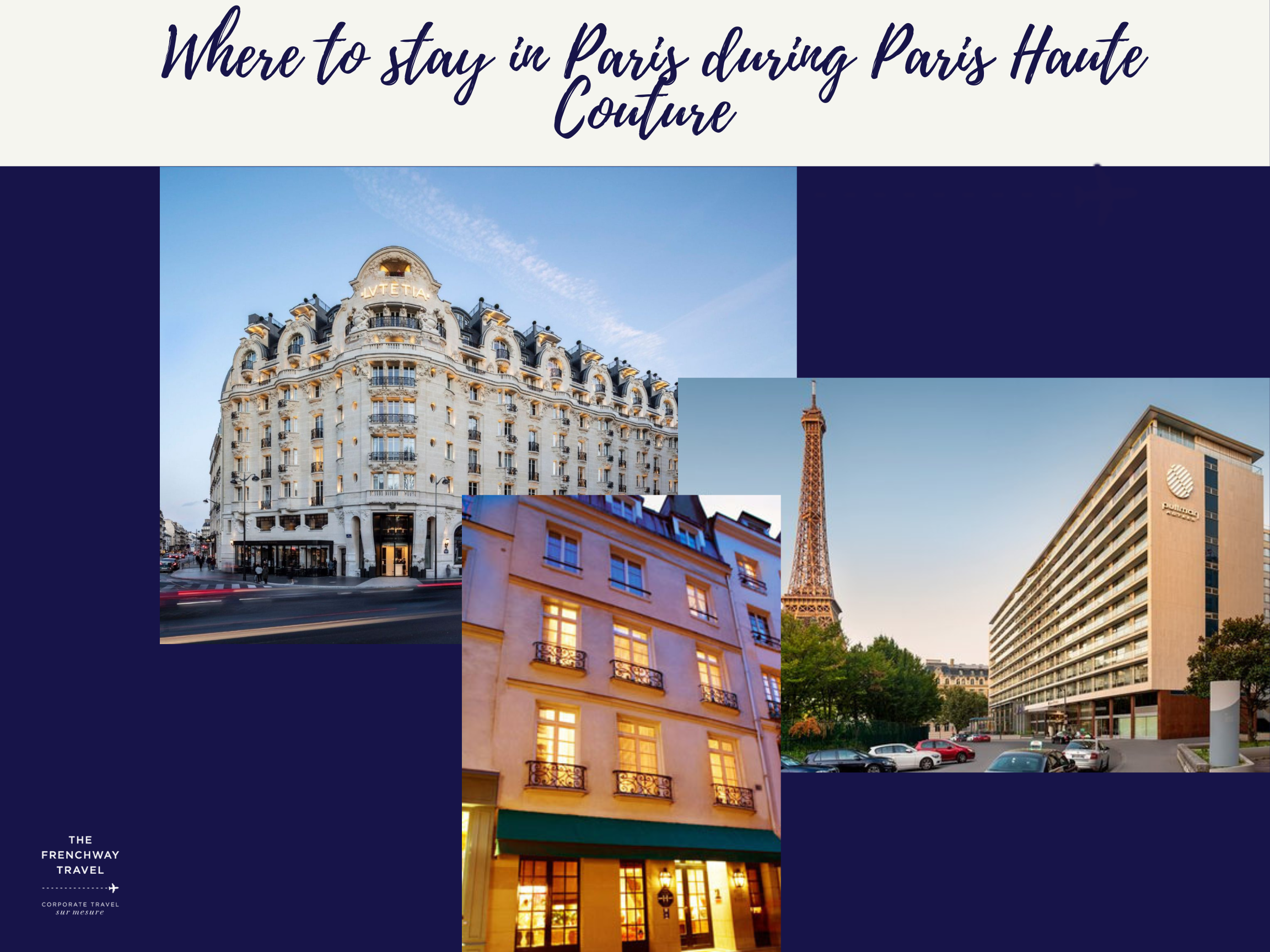 There is a lot of juggling when traveling as a group. That is why it is crucial to minimize the number of services you use. Allowing Frenchway to assist you in booking both your flights and accommodation not only saves you time but the stress of coordinating several different departments. Their top-of-the-line customer service and attention to detail will not only consider the need for your hotel to be near any event you will attend but also for it to be within your accorded price point.
Frenchway specializes in finding accommodations for production groups and individuals traveling during Paris's busiest seasons. Let them find the perfect place for each of your team members. With years of cultivated relationships and experience, they will use their contacts to locate a high-quality, budget-conscious location for you, your staff, clients, talent, production crew, and even VIP members. Accommodating all according to their different budgets, wants, and needs.
Why choose Frenchway?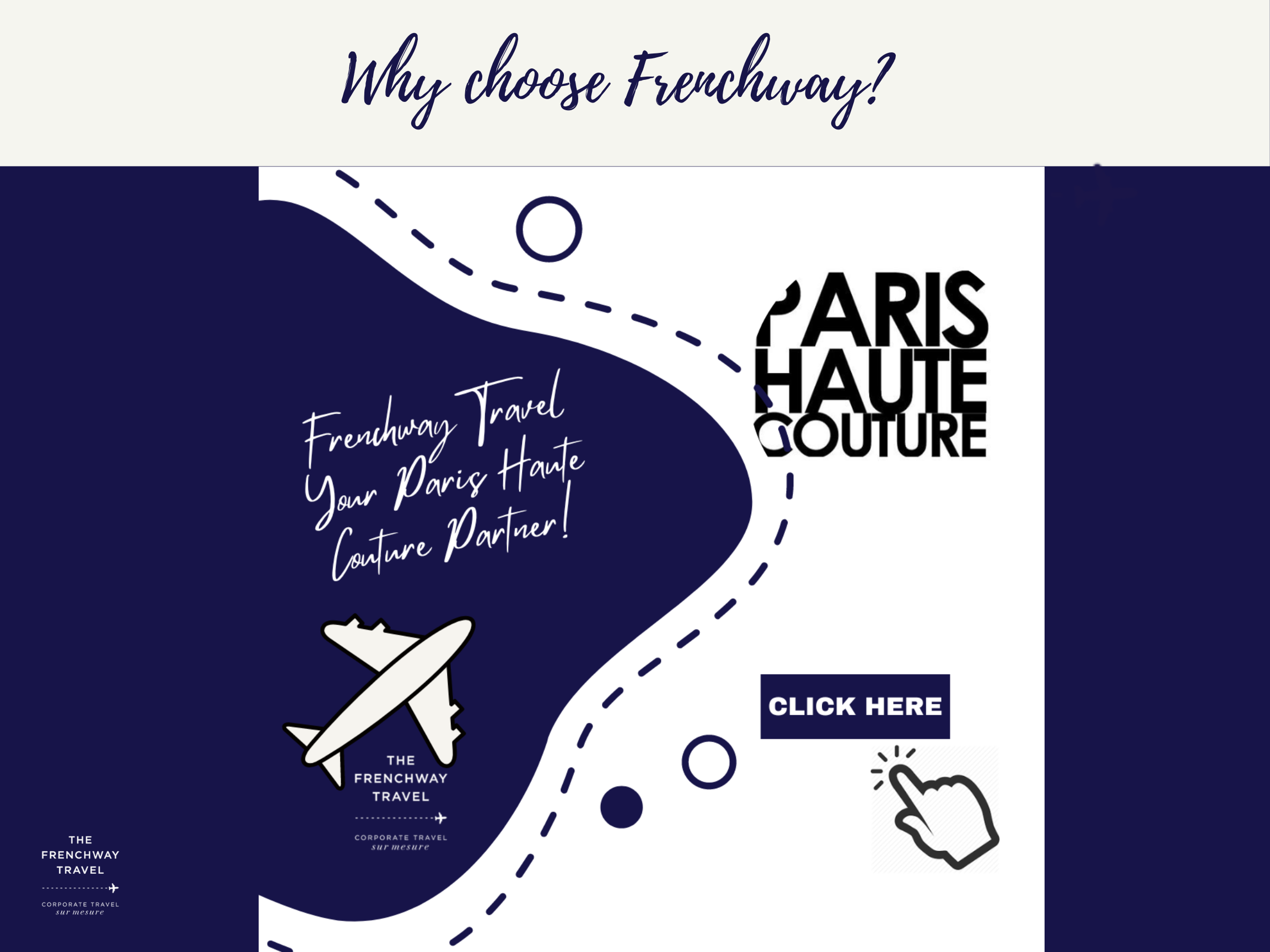 Frenchway Travel offers you first-class service, great rates, and strategic solutions to your traveling needs 24/7. With more than thirty-eight years of experience as the top business travel agency from New York to Paris and their strong ties with AirFrance, their business class rates, customer service, and attention to detail make the company highly competitive.