It's that time of the year again when every full-fledged fashionista wouldn't want to be anywhere other than in Miami. The Miami Fashion Week (MIAFW) is one of the hottest and, quite literally, most fashionable events ever to be held in the Magic City. If you're set on joining in on the fun, we're ready to guide you!
Aside from the Miami Fashion Week, there are other reasons to travel to Miami this season. The bustling nightlife, thriving art scene, and abundant shopping options balanced by the serenity offered by its beaches make Miami an ideal destination for anyone craving excitement.
So, if you're ready to pack your bags and travel to Miami for the upcoming Fashion Week from May 31st to June 5th and want to get the most out of the experience, read on!
What to expect at the Miami Fashion Week?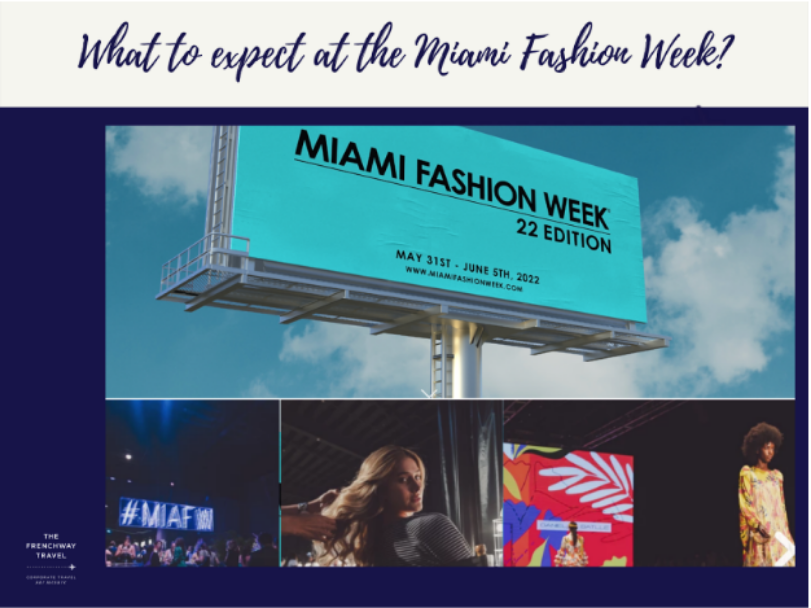 Miami Fashion Week is a week-long event presenting some of the best designers in the fashion realm, focusing on their latest resort, cruise, and pre-Spring collections. Participants range from top fashion houses to newly-emerging designers.
The MIAFW was established in 1998 to showcase Latin American and Caribbean fashion and culture. This event attracts aspiring resort wear designers, models, celebrities, trendsetters, influencers, and fashion publications all over the globe.
For this year's event happening from May 31st to June 5th, we expect the hottest swim brands all across the world to flock to its runways, from established brands like Boohoo, and Forever 21, to new and emerging brands like Tropic of C, Victoria's Secret model Candice Swanepoel's swimsuit line inspired by her home in South Africa.
Contemporary designers like Maaji and Acacia also made their name known in the Miami Fashion Week as early as 2020, so expect another show from them that will dictate resort and beachwear trends for the whole year. According to MIAFW's socials, they will release more info and details, so prepare to be surprised!
Although the fashion shows are the main attractions, the fun always veers out of the runway as the event also shines the spotlight on arts, culture, and lifestyle. So get ready to hop from one location to the next as the MIAFW will have different satellite locations from Downtown Miami all the way to the beach!
How to get to the Miami Fashion Week?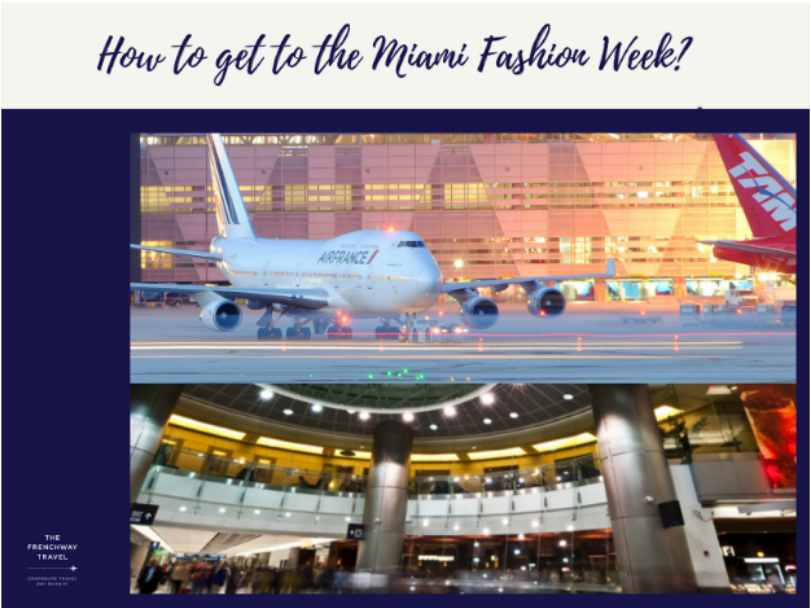 1. Flights to Miami
Flights to Miami will vary depending on when you're traveling and where you're coming from. Peak seasons in Miami, Florida, are usually in the winter, around February. Since Miami Fashion Week 2022 begins at the end of May, you can take advantage of the off-peak season.
-Miami International Airport
Your trip to Miami will initially land you at Miami National Airport— a sprawling and busy hub that connects Miami to the rest of the world. The airport is within access to expressways for easy drop-off to your hotel or BNB, whether it is located close to the airport at Coral Gables, Downtown Miami, or right by the Miami Beach.
2. Where to stay?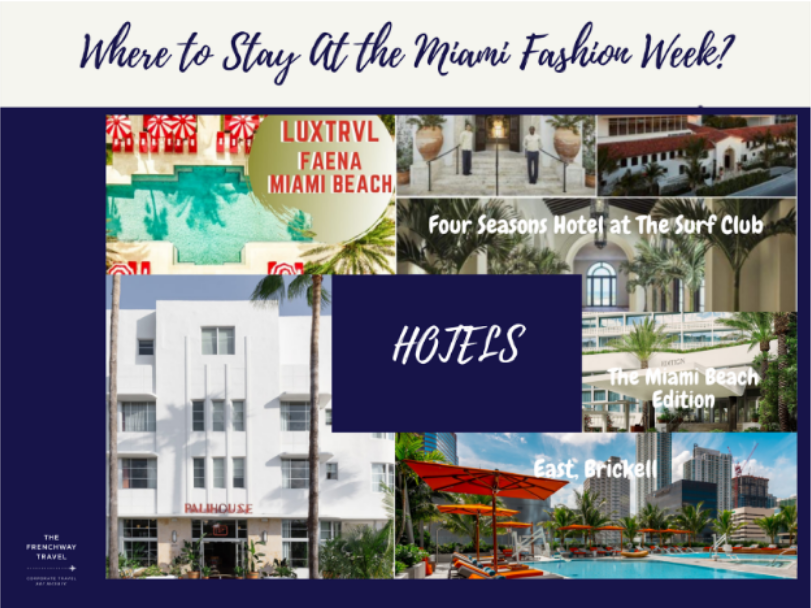 -Faena, Miami Beach
Miami is the epitome of excess glamour, and this is why the maximalist fever dream interior of Faena, with turquoise and red-themed rooms, is a choice for many fashionistas. Not to mention, it is within reach of the famous Miami Beach. Faena also features avant-garde installations, especially in time for Art Basel.
-Palihouse, Miami Beach
The Palihouse hotel will feed your art deco daydream with its coral-colored walls and pink elevators. Aside from its luxurious beds to welcome guests after a night out post-fashion show, it also has a Beach Butler program wherein you can request staff to drive you on a golf cart to any beach you want to go.
-The Miami Beach Edition
If you are a minimalist, stay at the Miami Beach Edition. This relaxing hotel can induce calm after your busy fashion show-hopping day with its all-white and blonde wood interior scheme. Every nook and cranny of this hotel can serve as a fitting background for your next Instagram post.
-Four Seasons Hotel at The Surf Club
Like all Four Seasons Hotels, this one at The Surf Club in Surfside, Miami, will give you a fantastic experience in the most pristine way possible. It may be farther away from Miami's busiest attractions, but it can easily become a blessing for the busy traveler with its luxurious amenities.
-East, Brickell
Are you looking for a hotel away from the busy Miami Beach? East is the way to go! The hotel features an effortlessly cool modern interior. It follows feng shui rules for every room, with a prism glass interior on the outside that looks like cascading water from afar. Furthermore, the rooftop will instantly transport you to Bali with its full greenery and panoramic views of the city. 
3. Where to eat and go?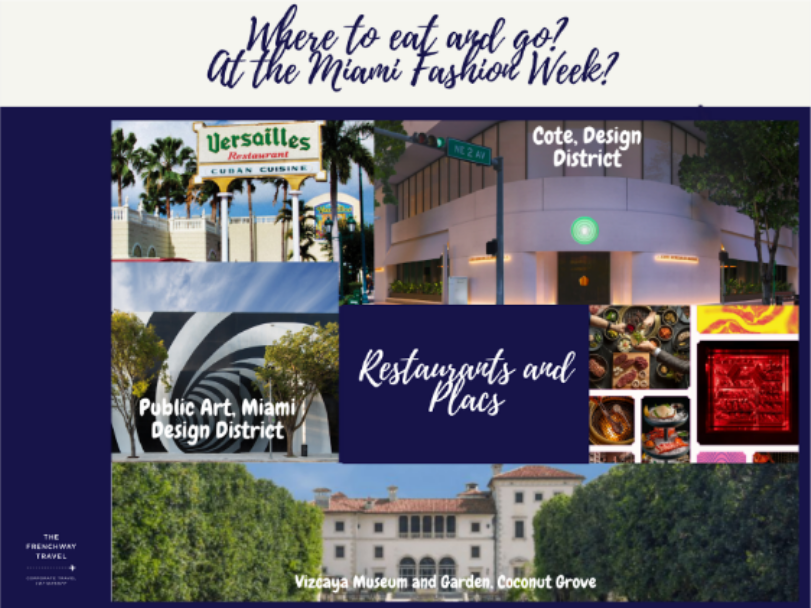 -Versailles, Little Havana
Versailles in Little Havana is one of the most famous Cuban restaurants globally! Grab their excellent Cuban coffee to fuel you up for an entire day full of fashion shows, parties, and socialization.
-Cote, Design District
Cote is a Michelin-starred Korean steakhouse in the Design District that will give you an interactive and intimate dining experience. You can also order from their list of excellent wines exclusively made and bottled for them.
-Public Art, Miami Design District
Besides the fashion and food available to you in this melting pot of a city, art and culture are also here to discover. We believe that your first stop should be Public Art at the Miami Design District. This art space features different works, including Dollar a Gallon by Virgil Abloh and Conscious Actions by GT2P.
-Vizcaya Museum and Garden, Coconut Grove
Step into the 1920s with a visit to the Vizcaya Museum and Gardens in Coconut Grove. There is a huge variety of art here, from the Renaissance to the French Rococo. Furthermore, its expansive gardens and fantastic architecture are ready for your perusal and picture-taking.
Let The Frenchway Travel be your fashion week partner!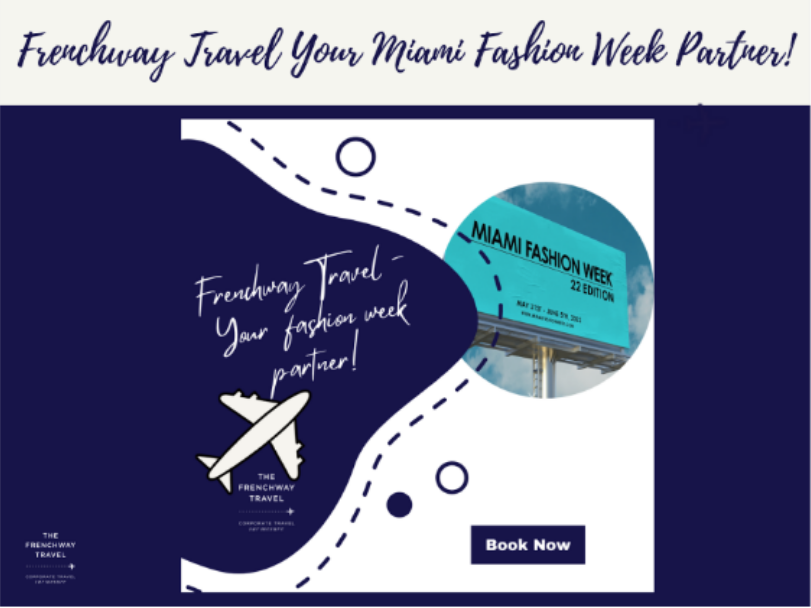 The Miami Fashion Week should be on every fashion enthusiast's bucket list. Aside from showcasing flowy resort robes and risque bikinis on the runway, this week-long event will also introduce you to a mix of cultures waiting to be discovered and experienced.
At The Frenchway Travel, we are always ready to make that experience possible for you. Contact usnow, and let's plan your next fashion week travel!