Since Air France was founded in 1933, it has been the number one French airline. The company is a global leader in passenger and cargo transport. Many high-profile visitors rush from NYC to Paris and back on a whim, and they must find a reliable and comfortable airline to work with. This is especially true during the busy seasons like summer or fashion week.
What does Air France's Business Class Offer?
Air France's intercontinental business class travel offers various services that make it the best way to travel when you are going from NYC to Paris and vice versa. One of these services when traveling in Air France's Business Class is access to SkyPriority. This includes an exclusive check-in process, priority boarding, and luxurious business lounge access.
Once onboard, the personalized cabin space allows you to unwind and recharge before reaching your destination. A Michelin-starred chef carefully created a dining menu accompanied by the best French wines. Its entertainment center offers a diverse variety of music, movies, and TV shows that range from recent hits to all-time classics that are sure to help you pass the time.
At the Airport
Once you have booked your Air France business class travel, your airport experience is bound to be easy. Its dedicated SkyPriority program offers a smoother check-in and an increased checked bag allowance. There is a fast track through security and immigration too.
Once inside the airport, you are welcome to head over to the Business Class lounge – Salon Air France. Inside you will find reception for assistance, comfortable lounge chairs, flight information screens, and an array of self-serve snacks and drinks at your disposal.
Finding Your Seat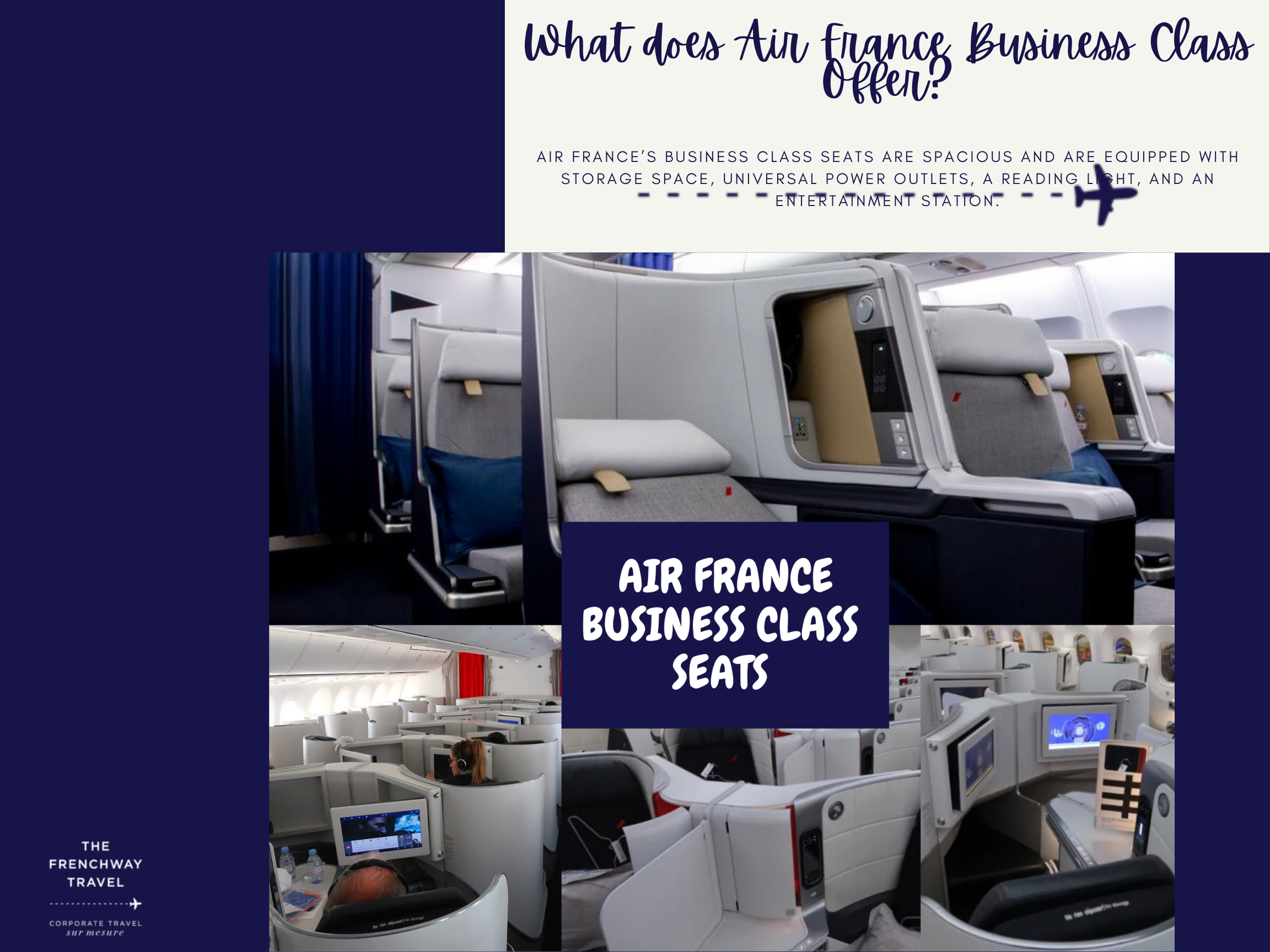 Once onboard, you will be greeted by the soothing grey, white, and red colors that are spread out throughout the cabin. While business seating may be different depending on your aircraft type, all intercontinental flights have seats that lie flat for optimal comfort. Air France's business class seats are spacious and are equipped with storage space, universal power outlets, a reading light, and an entertainment station.
Dining in Business Class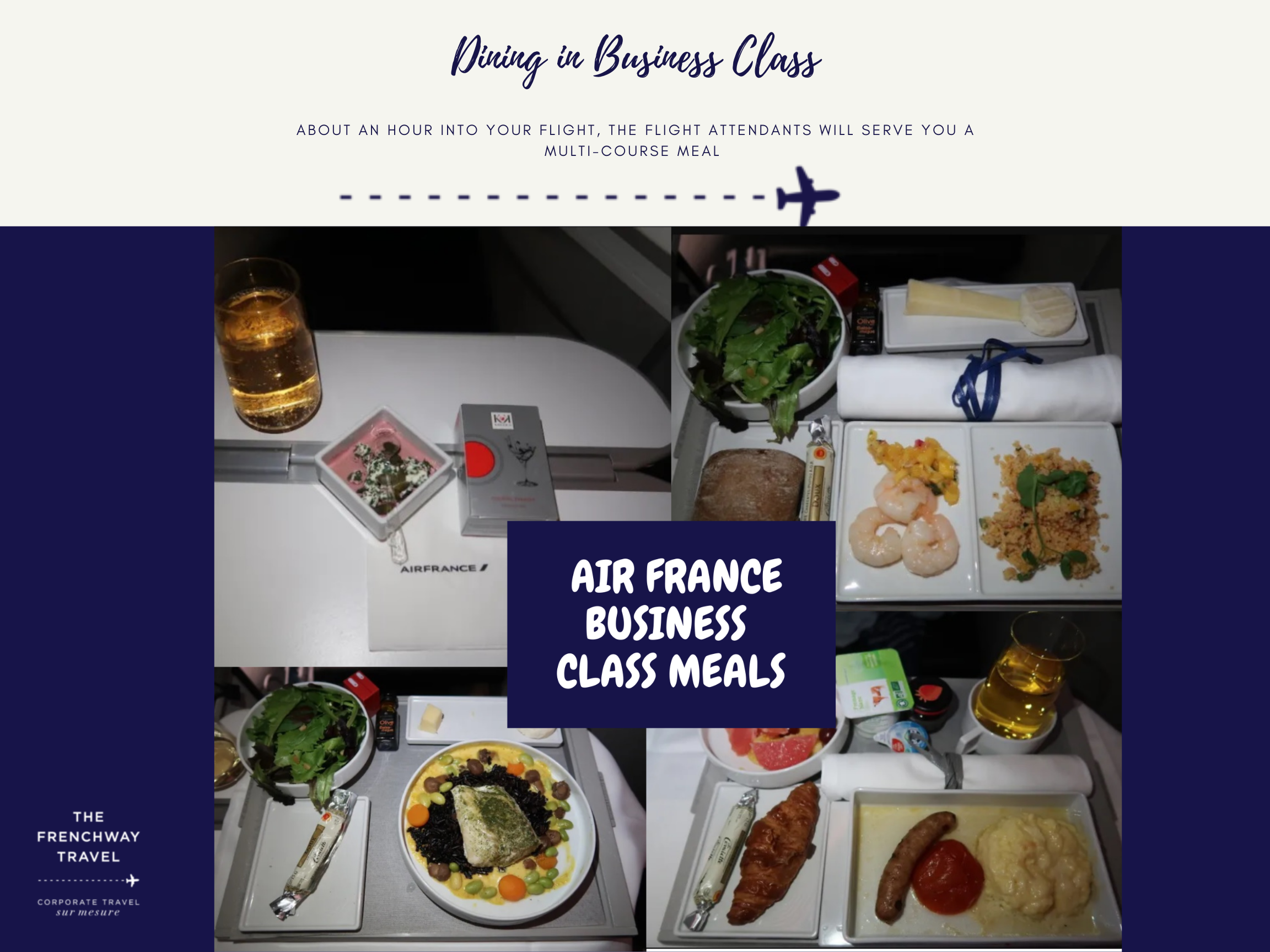 About an hour into your flight, the flight attendants will serve you a multi-course meal that includes a starter or appetizer accompanied by warm bread and butter followed by a curated selection of cheeses. After, you will be given your choice of three main dishes unless a special meal is requested. Afterward, there is dessert comprised of some small sweets and a hot beverage. A drink from their excellent selection of French wines is also available.
It is customary for long-haul flights to serve a light breakfast before landing. If you are too tired to eat breakfast at the designated time, you are able to ask for a small snack up to thirty minutes prior to arrival.
Entertainment
You are able to enjoy in-flight entertainment through your own personal screen and noise-reducing headphones wired to each seat. The screen provided may be a touchscreen. However, you are provided with a remote control regardless.
The actual entertainment ranges from award-winning films to current radio hits and kid-friendly animations. Its diverse content is bound to meet all your needs.
Aside from the entertainment provided, you will also be able to access the plane's WiFi network as it is available on all long-haul routes.
If you are in the mood to read, you will also have access to magazines and newspapers in several languages before departure. Your seat will also come with two in-house magazines – Air France and Air France Madame.
Booking your Air France's Business Class Ticket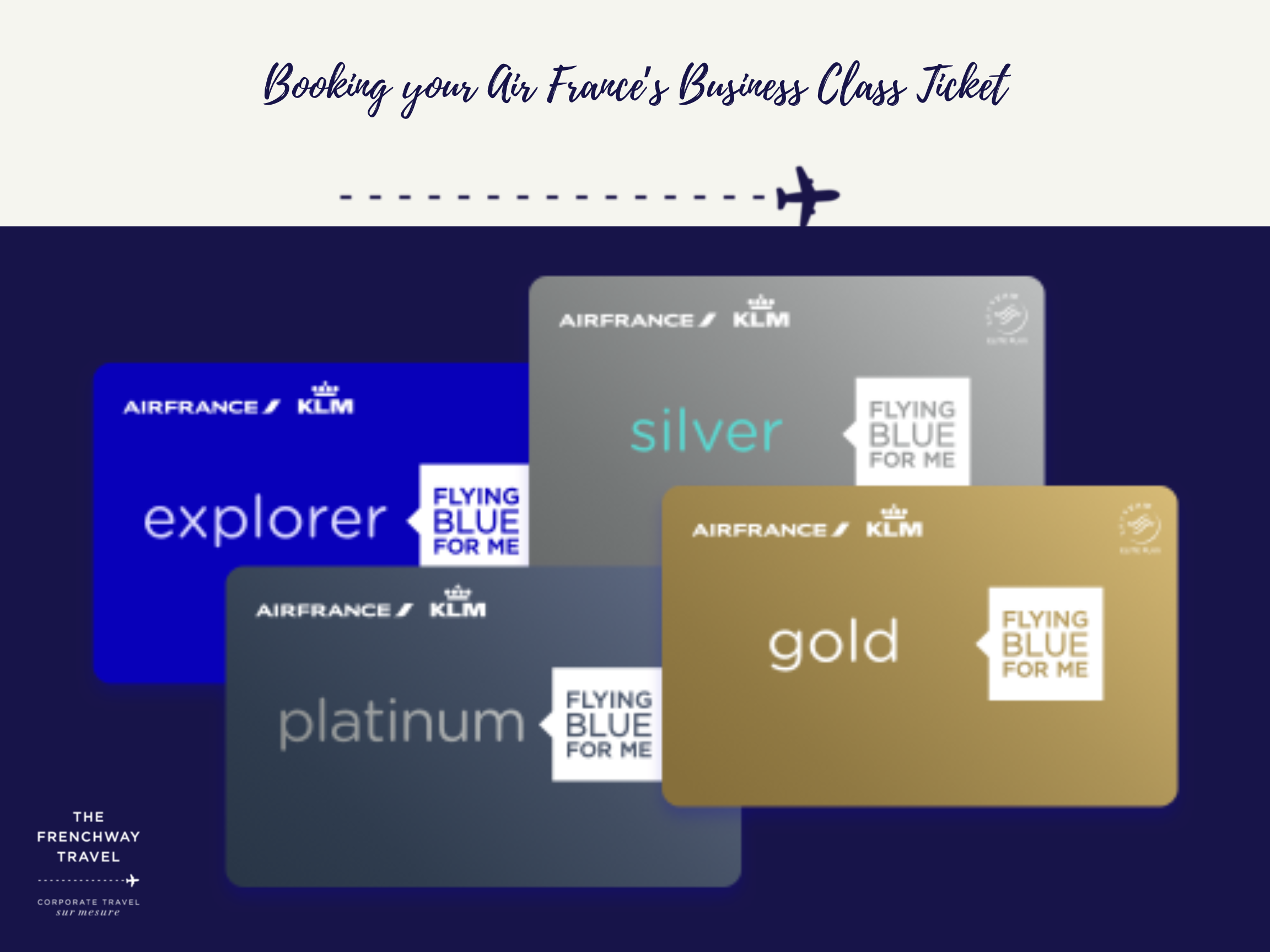 There are several ways to reserve your Air France Business Class Ticket. The first is by simply typing in your desired trip on a search engine and then settling with their deals. The next is by using the company's frequent flyer program that they have – FlyingBlue. With it, you will be able to count your miles and transfer with AMEX or Chase and many other Credit Cards.
However, many tend to overlook the obvious option. If you wonder how your trip can get any better, you should add an experienced travel agency. Frenchway Travel can make the travel experience even sweeter. As a full-service travel agency, we manage your travels from start to finish and deliver a well-rounded personalized service. We have over 38 years of experience and fortified global partnerships to back it up.
Our negotiated fares allow us to offer the best prices in the market. We can book business class and international travel at preferred rates. Yes, we can help you get the best rates even during the busiest seasons.
Booking For Small To Mid-Sized Companies
It is thanks to traveling advisors like Frenchway Travel that small to mid-sized companies are able to take advantage of Air France's Skybonus rewards program fully. Like their Flyingblue program, which is created for individuals, Skybonus converts your business travels into rewards. This means each dollar your company spends can convert into points that you can use to access the world's largest transatlantic network.
To become part of the program, you can allow Frenchway Travel to enroll you, or we can guide you through it to reap the benefits.
Frenchway Travel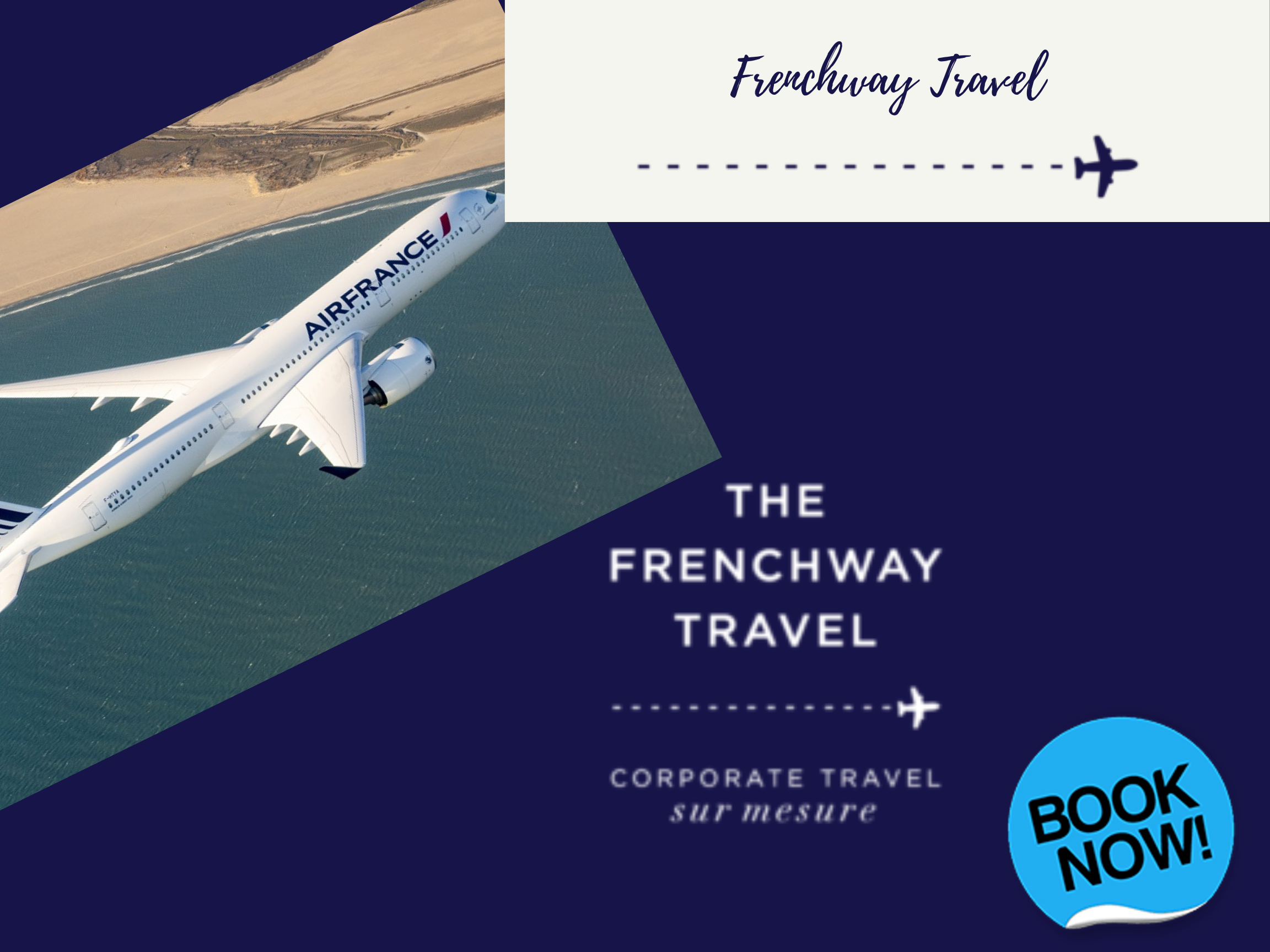 Our clients have fast-paced, in-demand careers in fashion, sports, media, and TV production, to name a few. They need a dependable and flexible service to support their travel needs. Our global network and Air France expertise allow us to negotiate the best rates.
We understand the pressure that comes with balancing both budget and deadlines. Our offices in New York and Paris, paired with an extensive network, allow us to provide around-the-clock service for all budgets. Frenchway Travel is a one-stop-shop and will be with you from booking until you get back home –managing all your trip so you can relax.