Traveling from New York to Paris
When traveling to Paris from New York, it's best to choose an AirFrance route. These routes are not only the fastest, but they are also the shortest routes. The distance from New York's JFK all the way to Paris' CDG (Charles de Gaulle) is about 3,623 miles (or 5,831 km) and can take anywhere from 7 hours to 9 hours, depending on your flight. While AirFrance offers a range of cabin accommodations, business class is sure to be the best way to travel, especially on a long flight like this one. There are eight direct flights or you can traveling from New York to Paris a day; 6 of those flights are run by AirFrance. Departure times to Paris from JFK by AirFrance begin at 4:30 pm (16:30) and go all the way to 11:00 pm (23:00).
What Aircrafts Fly From JFK To CDG?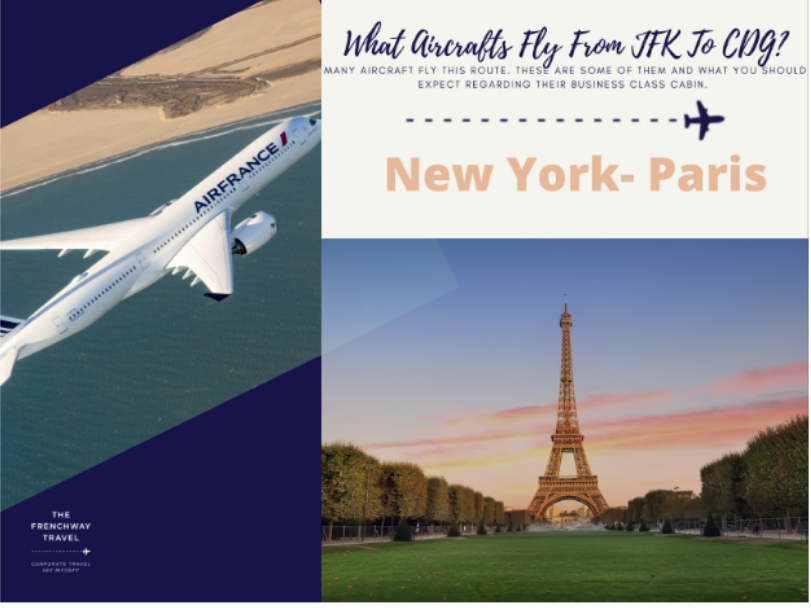 Many aircraft fly this route. These are some of them and what you should expect regarding their business class cabin.
Airbus A330 has a business class that expands to two cabins and features 36 lie-fleets in a 2-2-2 configuration. Each seat measures 78.7 inches long and 22.4 inches wide. You will find a large screen at the back of each seat for your entertainment. While the cabin has a 2-2-2 configuration, there are still dividers in place for privacy. In comparison to other cabins with the same configuration, the A330 cabin has more storage room.
Airbus A350-900's business class has 34 Optima seats, all arranged in a 1-2-1 configuration. Each seat features a state-of-the-art 18.5-inch HD in-flight entertainment touchscreen. All beds in the business class cabin measure 79 inches in length with a width of 21 inches and plenty of space in the foot area. If you prefer other types of entertainment like reading or writing, you will find overhead lights and a reading light on the wall of the seat.
The Airbus A380 has a business class with a 2-2-2 configuration and 80 angle-flat seats. Each seat measures 2 m / 6.6 ft and features a 15-inch screen for in-flight entertainment. You will find five storage bins in your seat, the biggest being the closest one to the window.
The Boeing 777-300ER business class features 40 Zodiac Cirrus reverse herringbone seats that are spread in two cabins with a 1-2-1 configuration. Their seats lay fully flat, differentiating them from other Air France aircrafts. You will find this business class cabin to be more spacious than the others, with a more than comfortable amount of legroom. The cabin is also equipped with basic seat controls, outlets, individual storage compartments (including a mirror and a hook for smaller items), and a barrier to allow privacy when in the middle seat.
Which Terminal Does AirFrance Use At JFK?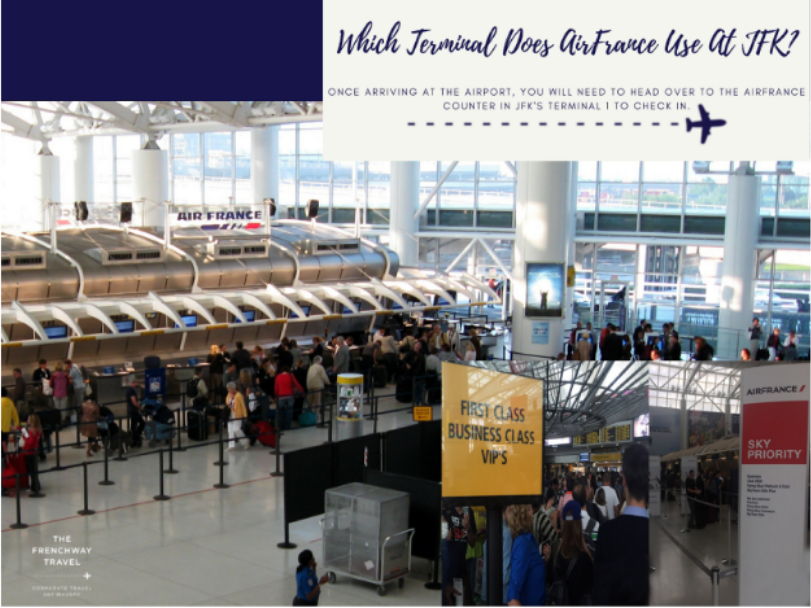 Once arriving at the airport, you will need to head over to the AirFrance counter in JFK's Terminal 1 to check in. Having booked a business class ticket in AirFrance means you have SkyPriority. This service allows you to pass through priority lines when checking in, at security, and when boarding. A business class ticket also allows you to 2 checked baggage items weighing up to 32 kg / 70 lbs each.
What is Terminal 1 at JFK like?
If you choose to explore the terminal before heading to the lounge, you will find a variety of shops and dining options at your disposal. Terminal 1 has several luxury stores, including TUMI for last-minute travel purchases, Salvatore Ferragamo, Cartier, and Burberry. If you are looking for last-minute souvenirs, snacks, and entertainment choices, you will find a Duty Free, Hudson News, and even a New York Gifts boutique.
While in Terminal 1, you will also find many dining options ranging from a Starbucks and MacDonalds to the Martini Bar and Uptown Market.
Who Can Access the Air France Lounge JFK?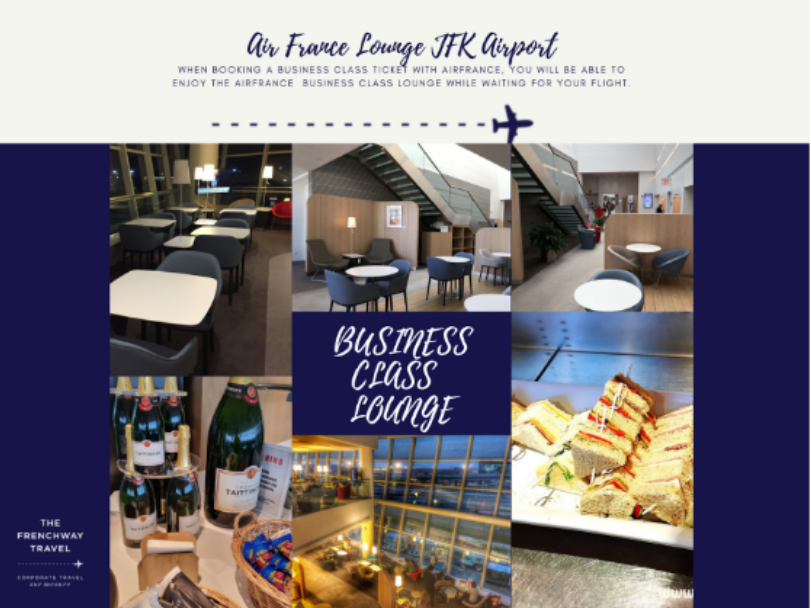 When booking a business class ticket with AirFrance. You will be able to enjoy the AirFrance or Star Alliance business class lounge while waiting for your flight. Once passing security close to Gate 1, you can make your way to the Air France Lounge, located in Terminal 1 at the JFK airport.
The lounge can also be accessed by priority pass holders and is open from 6 am to 1 am daily. Keep in mind that priority pass members do not have lounge access between 1 pm to 11:30 pm.
What is the AirFrance Lounge Like at JFK?
Before entering the lounge, you will be asked to check in at the reception with your Air France Business Class boarding pass. Once inside, you will see that the lounge has two floors.
The first floor is filled with seating areas as well as some basic shower rooms. If you forgot your shampoo, the lounge provides you with a two-in-one dispenser. If you are looking to grab a bite to eat before your flight, make sure to make your way up the electric stairs to the second floor to enjoy the rest of the amenities.
Enjoy a quick meal at the Parisian brasserie-inspired dining area with menu service on the second floor. Air France debuted a new pre-flight dinner service back in 2018. They provides the same dinner courses at the lounge as those you would get while on board.
If you decide on a lighter meal instead, the lounge also has a buffet with an array of choices like salad and cheese, bread, and dessert assortment.
Travel Guidelines from JFK to CDG (NYC – PARIS)
Please consider these travel guidelines as you plan your trip to Paris' CDG from NYC'S JFK.
– No vaccine is required to enter France
– No visa is required if staying less than 90 days in the EU
– Your Passport MUST be valid for at least three months beyond your planned date of departure from
Frenchway Travel has over thirty-eight years of experience as the top business travel agency who are traveling from New York to Paris and a long-lasting relationship with AirFrance. We offer you first-class service, great rates, and strategic solutions to all your traveling needs 24 hours a day. Contact us to book your next trip!