Since the beginning of the pandemic one year ago, the hope of getting back to a new normal emerged recently with the different vaccines and their deployments. In order to make Travel safe again, the different countries and the travel industry are looking at new digitalized tools. In this article, we present to you what are the options explored currently regarding Vaccine Passports.
Don't hesitate to contact us for more information on the travel regulation or to help you handle your travel needs by email or by phone (New York : +1 212 243 3500, Paris : + 33 1 44 06 08 70).
Travel Pass
IATA is launching the IATA Travel Pass, a digital platform for passengers. The objectives of this platform are:
Registry of Health Requirements: inform the travelers of the requirements prior to travel depending on their destinations (tests, vaccines, quarantines…).

Registry of Testing / Vaccination Centers: Where they can get tested, vaccinated.

Lab App: Safely and in the respect of their privacy, authorizes labs and test centers to send their test results and vaccination data to the travelers.

Travel Pass App:  Enables passengers to create a digital passport, verify their test/vaccination meets the regulations & shares test or vaccination certificates with authorities to facilitate travel. 
For now, 18 companies, including Emirates and Qatar Airways, are using it.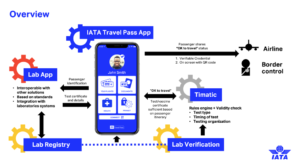 AOK Pass – Air France 
Air France is launching with MedAire and the International Chamber of Commerce a 4 weeks test phase of ICC AOKpass, to provide secure passengers' Covid 19 status at the airport.  The test will be the Paris CDG-Pointe-à-Pitre and Paris CDG-Fort-de-France routes from March 11, 2021. Air France Travelers on these routes will test this app on a voluntary basis. 
The ICC AOKpass is a mobile app, allowing travelers to carry securely their Covid 19 test results from partner laboratories. The ICC AOKpass provides secure verification, in line with the regulations of the destination country, via a network secured by blockchain technology.
Air France will then shared with the SkyTeam alliance their feedback,  to determine the best solutions for digitizing health documents.
March 17: Digital Green Pass
Ursula von der Leyen, President of the European Union Commission, announced that the Commission is working on digital green pass for travelers who are Covid 19 free to help restore the business and leisure travels. So, a proposition will be introduced on March 17th to the Commission in this regard. The European Countries have in mind the respect of the data and privacy of the travelers and want to develop a mutual tool to simplify travel across Europe. France is also attached to protect from discrimination people who didn't have access to vaccination yet.
We'll present this month a legislative proposal for a Digital Green Pass. The aim is to provide:

•Proof that a person has been vaccinated
•Results of tests for those who couldn't get a vaccine yet
•Info on COVID19 recovery

It will respect data protection, security & privacy

— Ursula von der Leyen (@vonderleyen) March 1, 2021
Green Pass
Israel is on its way for a world after Covid 19, with more than 50% of its population having received both doses of the vaccine. Israeli who got fully vaccinated or recovered from Covid 19 get a Green Pass. Israeli can print or download this document on their phone. It allows them to access culturals events, indoor dining, gym and some kind of gathering. It also allows them to travel without restriction to the countries with an accord with Israel (Greece and Cyprus for now). 
To conclude, as different options for vaccine passports are emerging, their success will depend on 3 factors:
The easiness of its use,

Its respect of the travelers privacy and

How widely they can be used.
At Frenchway, we will make sure to help you navigate between the different requirements and at term use the vaccine passport you'll need. Please don't hesitate to contact us.